Rating: 5/5
Verdict: Forget the hype. It's real.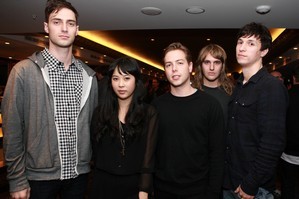 It's risky - almost premature - heaping five-star praise on a debut album. However, the Naked and Famous are different, because in the two years since forming they've proved themselves in many ways - and in the process arisen from the underground to score mainstream success.
As the duo of Alisa Xayalith and Thom Powers in 2008 they released two strikingly pure and raw EPs; last year (now as a five-piece) the escalating pulse of All Of This got the cool kids toe-tapping and arse-shaking; and then last night they won the APRA Silver Scroll for Young Blood, a song that debuted at No. 1 on the singles charts in June.
So it would have been a letdown if Passive Me, Aggressive You didn't live up to the band's early promise.
There are 80s and early 90s influences abounding, taking in everything from camp synth pop and Pretty Hate Machine-era Nine Inch Nails, to shoegaze moments (akin to Slowdive or Curve) on No Way, and Spank takes off on a big distorted beat frenzy like early Chemical Brothers.
And there's also a carefree and rebellious indie-pop feel to All of This and latest single Punching In A Dream, and the destructive thundering thrash of The Wolf In Geek's Clothing is an anomaly on the album, given it's chaotic and unbridled din.
That's not to say these influences take over and make them copycats. It's an accomplished, unique, and visionary record that's laced with searing doses of noise, spasms of guitar distortion, and electronic discord, while still rooted in a jaunty, poppy and thrilling intensity that is best represented by Young Blood.
It's hardly surprising it won the Silver Scroll, with it's "yeah, yeah, yeah" chorus surely appealing to the classic pop sensiblities of the songwriting competitions' judges - but it's also quite simply an inventive, rousing, and uplifting tune.
And it sits as a fitting centrepiece on the album which is seamlessly put together and ebbs and flows exquisitely from opener All Of This and the pounding pop of Punching In A Dream to the agitating and damaged beauty of Frayed, then the short industrial keyboard interlude The Source (where their Nine Inch Nails infatuation shines through again) which leads straight into the intensifying ambient swirl of The Sun.
The only slight glitch, because it's a little too over-blown in its eighties-ness, is Eyes, with its synth-pop-meets-soft-focus Bette Davis Eyes rock.
Lyrically, though, the album is effortless, and unlike some debuts it's devoid of trite and cliched lines, with some of the best including "punching in a dream breathing life into my nightmare" and " ... the spite builds up and I can't get through, passive me aggressive you".
Xayalith's voice moves from sweet and high to powerful and harsh, and acts as the sonic tonic to Powers' (mostly) whimsical and dreamy delivery - although he breaks out on last track Girls Like You which builds up into an anthemic and fitting end to the album of the year. Well, perhaps. Let's wait and see.
-TimeOut