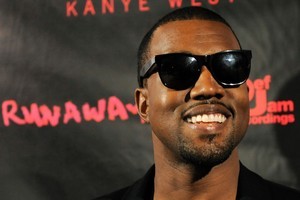 Rating: 4/5
Verdict: This character just don't care.
Behind Kanye West's loud sunglasses is a wild, warped world.
We get little insights into it when his loose tongue criticises American presidents and darling Taylor Swift and when he throws Twitter tanties.
And then, every year or so he channels all his fiery thoughts on to a record. He's also thrown all his friends on to this one, with 10 producers and cameos by some of the biggest names in the business.
In fact, the anthemic All of The Lights features Rihanna, Alicia Keys, Fergie, Kid Cudi, La Roux and even Elton John on piano. What's more impressive than the line-up is that it works.
West claims not to care what people think, but at the same time, it's clear he wants the everyman - not just the black rapper - to like his music.
Now that he has hooked the fans with the likes of party tunes Flashing Lights and Gold-digger, it seems it's time for Mr West to climb just a wee bit further inside himself and process his emotions.
Opening with a mystical fairytale voice-over, he rips into Dark Fantasy, the most soulful of the tracks, where he teams his trademark orchestral melodies and bolshy rap couplets with snippets of Mike Oldfield's In Higher Places. "The plan was to drink until the pain over/but what's worse, the pain or the hangover?" he raps, as he sets the tone for the rest of what could be called the honest album.
Lyrics of Gorgeous featuring Kid Cudi and Raekwon, include the somewhat thought-provoking "is hip-hop just a euphemism for a new religion?" as West explains that for him, music is far more than some road to redemption. Hell, he says, "I thought I chose a field where they couldn't sack me", and for your information he, "treats cash the way the Government treats Aids".
Of course, West is an arsehole, as he crudely admits in his first single Power. But he has, in the past six years, proven that his conduct has little impact on his ability to sell.
His point is, and he proves this against the heavy feral beat of this song, that despite losing a few fans by making his hate public, he knows how to drum up a popular party beat. Against the friendlier, naked piano of Runaway, he explains "I'm so gifted at finding what I don't like the most," and then offers a toast for the douchebags, arseholes, scumbags, jerk-offs - the people he openly hates, in other words.
As dark, twisted and ultimately crass as this album is, another angry reaction to his mother's death it is not. Between the dirty distortion and foul lyrics of Monster (featuring both Jay-Z and Bon Iver) and the John Legend-West ballad Blame Game, he is trying to get a message across. It's just he spreads across it complex juxtaposition of powerful and sometimes beautiful music and really distasteful imagery.
- TimeOut