Rating:
5/5
Verdict: Dark rock'n'everything; duo's classiest act.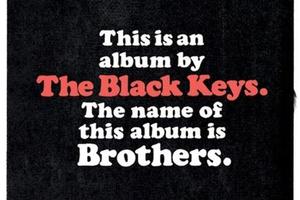 Known for producing blues-rock as thick as drummer Patrick Carney's glasses, Ohio-based duo The Black Keys has over the years tossed its tunes in everything from garage-rock to hip-hop. Their sixth studio album Brothers sounds like they have trawled through their history, plucked the most reverberating and meaningful moments of their career, and turned them into 15 moody and daring tracks. It is at once dirty and polished, vintage and new, like a crumpled, sepia photograph resurrected on the internet.
Opening with the tingling Everlasting Light - pained scratched-record vocals over a fuzzy pulse and the sultry back-up shoo-wop of Nicole Wray - the album takes a more sombre and nostalgic tone as it progresses. Dan Auerbach's wide-ranging vocals swing from swaggering rock and bad-boy country twang to kitsch tambourine-accompanied love ballads like The Only One, percussive funk and then gritty hip-hop in the second half of the album.
It takes a certain stylishness to resurrect the past and make it your own - and tracks like I'm Not The One which evoke the influence of moody 1960s legends like jazz musician Alice Coltrane and the Jerry Butler cover Never Gonna Give Up show The Black Keys have the class to pull it off.
This is a long album, but it has enough attitude and variation to hold listeners through to the closing twang - at which point we realise how far The Black Keys have come.