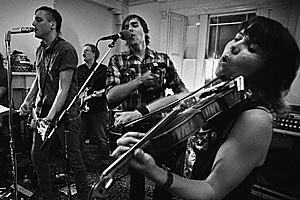 Rating: 4/5
Verdict: Third album from Canadian folk rock circus refines their epic vision.
After their striking 2004 debut Funeral made them international left-field contenders, their 2007 second Neon Bible roared out to great expectation and general acclaim.
That sophomore effort hasn't endured as well as the first, with a grandiose approach undermining its longevity. Still, high-charting sales gave the Montreal collective a higher profile and helped add extra muscle to a terrific live act. One of busy limbs strumming, beating, squeezing, pounding and plucking their way through a tall pile of instruments while looking like the house band in a Lars von Trier film.
From the outset, third album The Suburbs might seem to have, worryingly, even bigger ambitions. It's a hefty 16 tracks long. Some songs come with Roman numbers affixed, perhaps denoting something thematic or Broadway-friendly.
Given its title song, which both opens and - with a dreamy reprise - closes this, along with the likes of City With No Children, it would seem to suggest the band have added "bad town planning" to the woes of the world they bashed on about on Neon Bible. Or that maybe it's these sometime Talking Heads-soundalikes are doing their own True Stories - the soundtrack to David Byrne's cult movie about the quirky residents of a Texas town.
Thankfully, though, neither The Suburbs' conceptual conceits or its sound - pared back heavily from Neon Bible's excesses - get in the way.
Collectively, its songs are mostly reflecting on the adage "you can never go home again" and the confusion that ensues if you try. It also seems frontman Win Butler finds some wry amusement in being a creative grown-up catering to a juvenile culture on songs like Ready To Start and Rococo, two of the album's heartier earlier offerings recalling the baroque anthems of its predecessors.
But mostly The Suburbs is an album of understated gems and the occasional jack-in-the-box surprise. Among the former are Half Light I and II (its glacial chords akin to Bowie's Heroes); the aforementioned City with No Children (metronomic minimalist beat supporting a sweet tune); and Suburban War (guitar jangle giving it a Smiths-ish echo of 80s' indie).
It also offers pizzicato punk (on the pogo-paced violin-powered Empty Room, one of a couple of songs sweetly delivered by Butler's bandmate wife Regine Chassagne) and fragile folk somehow mutating into synthpop throb (on Sprawl I and II).
True, it could have lost three or four songs and felt less overstretched in its second half.
But mostly The Suburbs neatly underdoes it on an album that could take a while to grab - but one that just may endure all the better.
-TimeOut