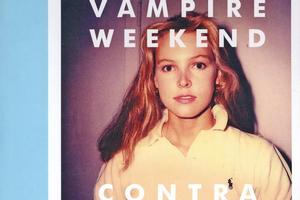 The chipper, orchestral world-pop of Vampire Weekend's debut album blasted 2008's indie-pop scene with 11 must-have-on-the-iPod tracks.
Some still maintain the New York four-piece - all college-educated and preppily dressed - were over-hyped, but the self-titled album did not contain one dud song, and this second album Contra is already tipped to be one of the best of 2010.
The sophomore album opens with Horchata, another of Ezra Koenig's cheeky-foot tappers with a calypso-beat and silly lyrics. "In December drinking Horchata, I'd look psychotic in a balaclava," is about as shallow in meaning and as poorly rhymed as the lyrics "I see a mansard roof through the trees, I see a salty message written in the eaves," of Mansard Roof from the first album - and just as endearing.
The tracks White Sky and Holiday are similarly light-hearted and almost childish - something to please those who were waiting for a matcher to the 2008 album.
But then lead singer Koenig and his band quirk it up. They show Vampire Weekend have not only dropped the heavy African influences in favour of a more worldwide-inspired album, but have also become more electro than folk.
California English is full of cascading pre-recorded vocals and digs at dialects while Taxi Cab, with Rostam Batmanglij's music-box piano melody and orchestral interludes, fades out like the soft memory Koenig sings about.
The layered percussion and tempo slips of Run and ska mixed with church-bell chimes of Cousins, then the electro of Giving Up the Gun - the only slightly bland song on the album - are further proof that you can't put Vampire Weekend's music in a box.
Diplomat's Son bridges genres from folk to electro to African to Calypso, all layered over the piano chords that are so Vampire Weekend. And Koenig signs off with the four-and-a-half minute track I Think Ur A Contra, a typically shrill yet delicate ode to heartbreak featuring every instrument used in the previous tracks.
This clever and multifarious collection of songs proves Vampire Weekend have always been about creating sound that stirs emotions in its listeners, rather than profound lyrics. And far from growing boring or sickly with each listen, Contra becomes more deliciously intriguing.
We presented Vampire Weekend with a challenge when we asked them to match the debut, and they responded with another that challenges us right back.