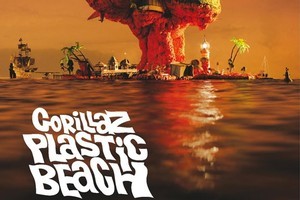 Rating: 4/5
Verdict: More melancholy, fun and madness from virtual band
This Plastic Beach that Gorillaz co-founder Damon Albarn has dreamed up is a fantastical place where a couple of gruff and famous old blokes by the names of Lou Reed and Mark E. Smith are sunning themselves and singing songs.
You'll also find little known grime stars Bashy and Kano trading lippy rhymes alongside the Lebanese National Orchestra for Oriental Arabic Music. And there's even a Super Furry Animal lurking somewhere there too.
But don't get too comfy in your deck chair. As well as a sense of fun, there's always been a melancholic mood to the Gorillaz, and it's that spell that Albarn and his virtual band cast over their third album.
Formed by Albarn and his artist mate Jamie Howlett in 1998, Gorillaz is made up of fictional cartoon characters 2D (vocals, keyboards), Murdoc (bass), Russel (drums/DJ) and Noodle (guitar, vocals), and with the release of their self-titled debut in 2001 and Demon Days from 2005 they've created playful, cheeky and inventive pop music.
Plastic Beach is no exception.
It may lack much of the mischief and sick fun of the past, but Albarn and Howlett, along with a list of guests ranging from hip-hoppers Snoop Dogg and Mos Def, through to veteran soul man Bobby Womack, continue to make music that sounds like nothing else.
Rooted in catchy pop music, Gorillaz once again draws on everything from hip-hop, soul and funk, soundtrack subtleties, and world music to create another ambitious yet wholly appealing album.
Sixty six-year-old Womack hadn't even heard of Gorillaz when he was asked to contribute, but luckily his daughter encouraged him to do it and he adds his raw holler to the loping electro of first single and album stand-out, Stylo.
Elsewhere Snoop introduces us to the world of the Plastic Beach in typically slipper fashion ("Belly floppin' lockin' while I'm rockin' in the bubble bath."); 2D's (aka Albarn) dreamy and boyish vocals come to the fore on the lovely Rhinestone Eyes and the album's signature tune, On Melancholy Hill; Superfast Jellyfish, with De La Soul and Gruff Rhys of Super Furry Animals, is the album at its most playful; the moochy bop of Empire Ants is its most beautiful moment and Mos Def and the Hypnotic Brass Ensemble turn up on the challenging and glitchy Sweepstakes.
And special mention has to go to Mark E. Smith of the Fall who has the laziest yet most distinct role yabbering only three lines for his part on Glitter Freeze. Let's hit the beach.
-TimeOut