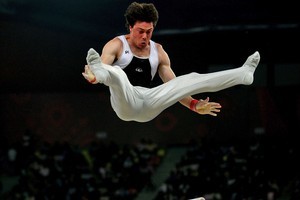 It took five days but New Zealand finally have a gold medal after a highly successful day in Delhi.
The New Zealand team added nine medals to their 2010 Commonwealth Games haul highlighted by Alison Shanks' victory in the individual pursuit.
The cycling team completed a record haul, equalling their 1990 total of nine medals, while four more medals were won in the pool overnight.
Decathlete Brent Newdick and 1500m runner Nickki Hamblin got New Zealand's track and field campaign off on the right note, both picking up silver medals. Valerie Adams is a dead cert to add a golden touch to that tally tonight.
Highlights from day five:
Golden glow at last for New Zealand
Dunedin cyclist Alison Shanks became the golden girl last night when she won the individual pursuit, beating Northern Ireland's Wendy Houvenaghel by 1.5s.
NZ add four more medals in the pool
Daniel Bell, Glenn Snyders, Hayley Palmer and the women's 4 x 100m freestyle relay team all left the swimming arena with medals last night, though once again none of which were gold.
Table-topping Black Sticks look to surge on
Black Sticks women's coach Mark Hagar is determined to guard against complacency among his team as they march towards a possible medal match at the Commonwealth Games after a convincing 4-1 win over their hardest group rivals England.
Mixed feelings for weightlifter after getting silver
Weightlifter Richard Patterson had mixed feelings after winning silver in the 85kg class at the Commonwealth Games in New Delhi tonight.
Netball: Easy win keeps Ferns on track for semifinals
A routine win with a makeshift lineup over South Africa has kept the Silver Ferns firmly on track for the Delhi Commonwealth Games netball semifinals.
Meanwhile in other sports boxer Joseph Parker advanced to the next round, three lawn bowls teams were eliminated, as was Kiwi wrestler Sian Law.
See a full wrap of day four
NZ results in Delhi - day five
Medal update:
Gold 1 Silver 13 Bronze 5
Gold at last for New Zealand to go with the 13 silver and five bronze medals, good enough for 11th place on the medal table. Australia still remain well out in front with 98 medals which includes 47 golds. Hosts India sit in second place with 20 gold medals.
Full medal table
What to watch for - Day 6:
Kiwis in action schedule
Medal hope
The word in Delhi is the biggest obstacle in the way of Valerie Adams winning shot put gold on day six is the transport to the stadium. Lock in a second gold for New Zealand at 2am.
Don't miss
Swimming:
The final day in the pool. New Zealand came away with four medals on day five but can they add to that tonight? (Heats 4pm, finals 11.25pm).
Hockey:
Both hockey teams are in action today with the men taking on England (4pm), while the women look to finish their pool play in style against Canada (10pm).
Athletics:
All eyes on Valerie Adams in the field but track runners Monique Williams (200m), Nikki Hamblin (800m) and Nick Willis (1500m) will be looking the qualify for finals on the track tonight (from 6.55pm).
Lawn bowls:
Ali Forsyth begins his quest for a medal in the singles event. His first match is against Shaun James Parnis of Malta while Val Smith takes is also in action in the women's event (11.30pm).