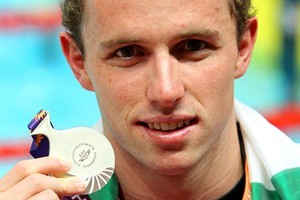 Daniel Bell was chasing the gold medal in his Commonwealth Games 100m backstroke final last night.
He finished second but outside his national record, clocking 54.43 seconds in trailing England's Liam Tancock home, Tancock setting a Games record 53.59s in the process.
Not too long ago, Bell's reaction might have been different.
"A couple of years ago I would have thrown my toys after a race like that," the Hawkes Bay 20-year-old said.
"But I've learnt to control my emotions a little bit and take positives out of bad situations. I guess that's how I've improved.
"At these meets you don't always swim your fastest in finals, but you're after medals and I got that tonight so I'm happy."
Even if Bell had matched his national record of 53.85s set at the world championships in Rome 14 months ago it would still not have got him the gold.
He had been afflicted by tummy bug for the last couple of days, but dismissed that.
"I'm not here to make excuses. Whatever happens happens. I did what I needed to win silver on the day and that's gtood enough to go forward."
His squad mate, Wellington's Gareth Kean followed his silver in the 200m backstroke with a solid fifth placing.
Breaststroke exponent Glenn Snyders had the rare privilege of sharing the second place square on the dais, after dead-heating with Australian Brenton Rickard.
The pair touched in 27.67s, behind Games record-setting South African Cameron van der Burgh, who clocked 27.18s.
Disappointed? Hell no, said the 23-year-old from North Shore.
"I'm not disappointed at all. I wanted to go under the New Zealand record, and did, and on top of that I got a medal, so I couldn't be happier," he said.
The first medallist of the night was Hayley Palmer in the 50m freestyle sprint and she was chuffed at getting bronze.
"I was so inspired by the others getting their medals (the 4 x 200m women's relay team) that I felt gutted I wasn't able to join in with them," she said.
"I just wanted to get on that podium."
And did so, with a national record 25.01, .03s behind silver medallist Fran Halsall of England. She was .15s adrift of winner Yoland Kukla of Australia, who broke the Games record.
There was a bonus bronze in the final race of the night, the women's 4 x 100m freestyle, when the quartet of Palmer, Penny Marshall, Amaka Gessler and Natasha Hind were promoted from fourth to third after Canada were disqualified.
They posted a national record 3:42.12 and it gave New Zealand a sixth medal at the meet, equalling their haul from Melbourne four years ago.
There was a fifth place for Lauren Boyle in the 400m freestyle. She'd qualified fastest and still broke her national record with a 4:09.45, but it was a tough race, won in Games record time by England's Olympic champion Rebecca Adlington.
Melissa Ingram broke the Games record for the 200m backstroke in the morning heats, then trailed in seventh in the evening final. A day of mixed emotions, but she was philosophical.
"It's still one of my best times to date. Obviously it's disappointing but it was a world class field. It was always going to be tough," she said.
Backstroker Emily Thomas was seventh in her 50m final in 29.02s, outside her national record.