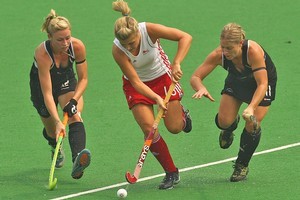 New Zealand results on day five of the Commonwealth Games at New Delhi:
Athletics
Decathlon, second day, Brent Newdick, 110m hurdles, 14.79sec 875 pts, discus, 43.50m 736 pts, total 5686 pts 2; heptathlon, first day, Rebecca Wardell, 100m hurdles, 14.18sec 953 pts, 5-equal, shot put, 14.64m 837 pts, high jump, 1.69m 842 pts, 200m, withdrew, total 2632 pts; women's 1500m final, Nikki Hamblin 4min 05.97sec 2.
Bowls
Men's triples group match, New Zealand (Shannon McIlroy, Andrew Todd, Richard Girvan) lost to Australia 7-10 7-13; women's pairs group matches, New Zealand (Jan Khan, Manu Timoti) lost to Australia 4-8 2-14, bt India 9-6 17-2; men's pairs group matches, New Zealand (Daniel Delany, Richard Collett) lost to England 6-6 15-8, lost to Malaysia 13-3 8-7; women's triples group matches, New Zealand (Dale Lang, Genevieve Baildon, Karen Coombe) lost to Australia 9-10 6-8, bt India 13-5 6-6, eliminated on countback.
Boxing
75kg, 1/8 elimination bout, Nathon McEwen lost to Eamonn O'Kane (Northern Ireland) 2-8; +91kg, 1/8 elimination bout, Joseph Parker bt Didier Bence (Canada) 14-7.
Cycling, track
Women's individual pursuit, qualification, Alison Shanks 3min 32.144sec fastest qualifier, Jaime Nielsen 3:37.607 4th fastest, Lauren Ellis 3:41.592 eighth fastest, gold medal race, Shanks 3:30.875 1, bronze medal race, Nielsen, 3:39.923 4; men's 20km scratch final, Shane Archbold did not finish, Marc Ryan 5; men's team sprint, New Zealand (Eddie Dawkins, Sam Webster, Ethan Mitchell) 44.239sec 2.
Gymnastics
Individual apparatus finals, men's vault, Patrick Peng 15.000 4; men's parallel bars, Mark Holyoake 13.825 4.
Hockey
Women's group B match, New Zealand (Katie Glynn 3, Sam Harrison) bt England (Ashleigh Ball) 4-1. Halftime: 2-1.
Netball
Group B match, New Zealand bt South Africa 70-29. Halftime: 32-16.
Shooting
Men's 10m air pistol, Greg Yelavich 570 total 7; men's trap pairs, New Zealand (Myles Browne-Cole and Allan Sinclair) 189 total 5; women's trap pairs, New Zealand (Nadine Stanton and Natalie Rooney) 87 7.
Swimming
Women's 200m backstroke, heats, Melissa Ingram 2min 9.43sec fastest, final, Ingram 2:09.53 7; women's 400m freestyle, heats, Lauren Boyle, 4min 10.31sec fastest, final, Boyle 4:09.45 5; women's 50m freestyle, final, Hayley Palmer 25.01sec (NZ record) 3; men's 50m breaststroke, final, Glenn Snyders 27.67sec 2; men's 100m backstroke, final, Daniel Bell 54.43 2, Gareth Kean 54.91 5; women's 50m backstroke, final, Emily Thomas 29.02 7, women's 4x100m freestyle relay, New Zealand (Amaka Gessler, Hayley Palmer, Penelope Marshall, Natasha Hind) 3:42.12 (NZ record) 3.
Table tennis
Women's singles, 1st round qualifying, Yang Sun bt Janice Mellie (Seychelles) 4-0, Annie Yang bt Jaisina Newaj (Mauritius) 4-0, Jenny Hung bt Beatrice Mwanyali (Malawi) 4-0.
Weightlifting
Men's 85kg, final: Richard Patterson snatch 150kg, clean and jerk 181kg, total 331kg, 2.
Wrestling
Women's 51kg freestyle, Sian Law lost to Ifeoma Nwoye (Nigeria) 3-0.
- NZPA