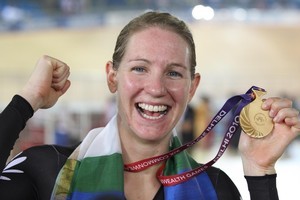 It's taken five days and several close shaves, but New Zealand has finally struck gold at the Commonwealth Games.
Dunedin cyclist Alison Shanks became the golden girl last night when she won the individual pursuit, beating Northern Ireland's Wendy Houvenaghel by 1.5s.
"I was pleased with my time, but who cares, it's all about the gold medal," a delighted Shanks said.
Shanks was followed immediately by the men's sprint team who were pipped for gold by nemesis Australia.
It continues a remarkable run for the cyclists, who have won nine of New Zealand's 12 medals.
Nine medals on day five for Comm Games team
Commonwealth Games medal table
Shanks started slowly in her quest for gold, trailing Houvenaghel by .7s after the first kilometre. But in a blistering second kilometre, she caught and passed the Ulsterwoman.
With 1000m to go, only mechanical failure was going to stand between her and the gold.
She finished the 3000m in a time of 3m 30.875
"The aim was to go out and race my own race for the first five or six laps," Shanks said.
"It's important not to go out too hard so you've something to race with in that second half.
"It's just a buzz, a real relief. Normally the pursuit programme is at the start of a meet, so it's been a long few days watching other teammates performing.
"Finally race day has come and it feels fantastic."
After a few laps of honour before a crowd made up mostly of New Zealanders, including Governor-General Sir Anand Satyanand, Shanks returned to the infield, where she was met with a hug from coach Craig Palmer.
Shanks is a former world champion in the event, beating Houvenaghel in Poland last year.
But at this year's world championships in Copenhagen, she finished out of the medals, being pipped in the third-place final.
The 27-year-old took up the sport only five years ago after promising rep careers in netball and basketball.
New Zealand's Jaime Nielsen missed bronze in the same event, beaten by Canadian points race world champion Tara Whitten.
The men's sprint team of Ethan Mitchell, Sam Webster and Eddie Dawkins confirmed their immense promise with silver, though the race had a painful ending for one of them.
Webster crashed to the track after completing his lead-out on the second lap and tore a large chunk of skin off his shoulder.
Sparc chief executive Peter Miskimmin described the performance of the cycling track team, especially the sprint team, as heartening.
"We've never really had a sprint squad so to invest in them and see them perform here is really heartening," he said.
On Australia's dominance of the gold medals, Miskimmin said it was interesting to see how well you could bounce back from a setback.
"Clearly Australia got taken to the cleaners in Beijing, but they've come back with a young squad and look very strong."
During the morning's qualifying heats, Shanks qualified easily in first, more than two seconds quicker than Houvenaghel.