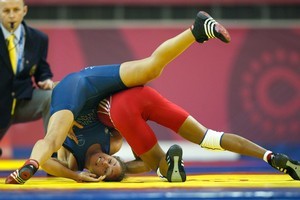 Sian Law's entry into the Commonwealth Games lasted less than two minutes and she was left to ponder what might have been.
The Porirua grappler, the first female wrestler to compete for New Zealand at a Commonwealth Games, had just nailed a three-point feet-to-back throw on her Nigerian opponent Ifeoma Nwoye and looked set to win the first of three rounds.
But Nwoye turned the tables in the dying seconds of the round and pinned Law to the mat, automatically ending the bout. Law then had an anxious wait to see if Nwoye won her semifinal against Mpho Madi. Nwoye did, and her progression to the gold medal match meant Law went through to a repechage round to see who would fight for the bronze. With highly regarded Canadian wrestler Jessie MacDonald in that draw also, Law had a difficult task trying to win a medal.
"I'm gutted," said Law. "A couple of seconds, I can't believe it. I thought I had her there and suddenly it just didn't happen."