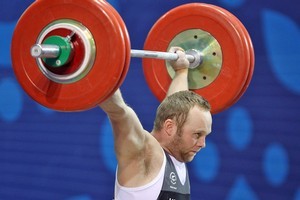 Weightlifter Richard Patterson had mixed feelings after winning silver in the 85kg class at the Commonwealth Games in New Delhi tonight.
Leading after the snatch on body weight, he couldn't quite produce the clean and jerk that would have won him the title over Australian Simplice Ribouem.
Patterson recalled a comment he made after finishing fourth at the last Games in Melbourne.
"I said there was nothing worse than coming fourth, except for coming second," he said.
"But I'm really happy. I was on the dais and I saw the New Zealand flag go up and got a little chill and had a smile."
Both Patterson and Ribouem snatched 150kg, but the 27-year-old Aucklander, for whom the weight was a New Zealand record, topped the leaderboard because he weighed in at 0.56kg less.
In the clean and jerk, Ribouem edged in front with an 183kg second lift to Patterson's 181kg.
"I had a really good day with my snatches and that gave me an opportunity to push him in the clean and jerk," Patterson said.
However, he felt that if he equalled Ribouem's mark, it would not be enough, so he decided to go for 189kg.
"I knew I had to push him big," he said.
"I've competed against him before and I knew that 190 plays on his mind so I threw 189 at him.
"I gave it everything, but unfortunately I just sat back on my clean a little bit and took it out in the jerk and just rushed it bit."
Patterson's knees buckled to the strain and he held his head in his hands when his attempt failed.
Ribouem also failed with his final lift, an attempt at 194kg, to end on a combined total of 333kg.
Patterson was 2kg behind, while Canada's Mathieu Marineau took bronze with 325kg.
- NZPA