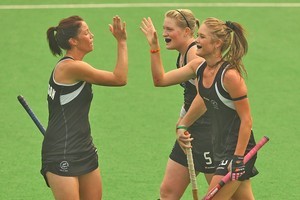 Black Sticks women's coach Mark Hagar is determined to guard against complacency among his team as they march towards a possible medal match at the Commonwealth Games.
A convincing 4-1 win over their hardest group rivals England yesterday ensured their passage to the semifinals. They finish group play against Canada tonight and while the outcome won't affect their spot in the final four, Hagar is keen that the momentum built up remains intact.
They beat Malaysia and Wales in their earlier group games, putting five goals past each, they're on a roll and playing with conviction.
"We've go to be careful, we don't want to become complacent and get too arrogant or cocky," Australian Hagar said.
"Currently we're playing well and need to continue that flow."
Canada, world No 19, 12 places lower than New Zealand, are third in the group. Hagar likes aspects of their game, but feels they lack consistency.
Auckland striker Katie Glynn's first international hat-trick did the job against world No 5 England and she spoke of the good vibe running through the team.
"We've improved with every game which is a real positive," she said.
Although Hagar's eye is very much on the ball, he took a peep ahead at the semifinals, in which New Zealand will play either world No 6 Australia, No 11 India or No 12 South Africa.
And he's relaxed who the Black Sticks face in the semis on Monday.
"All three on their day can play very good hockey. It's a really close competition between the top four or five teams and each team can beat each other.
"As long as we play to the style we want and move the ball around and hold it for long periods, I think we can challenge most teams."