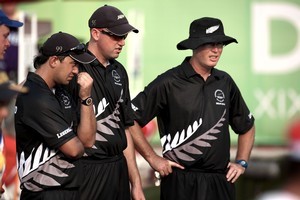 Three New Zealand bowls combinations today had their Commonwealth Games hopes dashed after they dropped out of the medal races in New Delhi.
The women's triple of Genevieve Baildon, Dale Lang and skip Karen Coombe finished fourth in their section, one place short of qualifying for the playoffs.
The triple had been among the frontrunners during the week, but lost to Australia 10-9 8-6 this afternoon.
While they beat India 13-5 6-6 tonight, they were eliminated on countback after the top four teams all ended with six wins.
The men's triple of Andrew Todd, Shannon McIlroy and Richard Girvan also lost a trans-Tasman battle, going down 10-7 13-7 in their only match of the day.
That result ended their hopes of making the playoffs with one round to go tomorrow.
The men's pair of Danny Delany and Richard Collett are also out of the running after losing to England 6-6 15-8 and Malaysia 13-3 8-7.
They finish with two more matches tomorrow
However, the women's pair of Manu Timoti and skip Jan Khan are within touching distance of qualifying from their section.
With one round to go tomorrow and three teams going through, the New Zealanders are second in their group behind Australia on countback.
However, the top of the table is tight, with five teams sitting on six wins.
Australian pair Lynsey Armitage and Natasha Van Eldik won their clash with Timoti and Khan this morning at the Jawaharlal Nehru Sports Complex 8-4 14-2.
Timoti and Khan bounced back in the afternoon by beating India 9-6 17-2.
- NZPA