The number of house fires in Rotorua annually has risen by 74% since 2011.
Nine months after he lost almost everything he owned in a fire, Kris Beehre says he can still remember how he felt watching flames engulf his Glenholme home.
"It's panic, it's despair, it's sadness. It's a feeling you can't really describe," he said.
Figures obtained by the Rotorua Daily Post reveal residential fires in Rotorua have increased by 74.4 per cent since 2011 - from 43 to 75 last year. Central Lakes Area Commander Graham Fuller said he couldn't say exactly why the numbers had risen.
"One of the contributing factors is the growth in Rotorua, people coming into the district. "But there is no single outstanding reason as to why our house fires are increasing," Mr Fuller said.
He said the Fire Service targeted identified at risk areas to provide fire safety education.
"We have home fire safety checks, we are also working with real estate companies to fit smoke alarms into rentals. Over the last year we have fitted close to 400 smoke alarms to try and prevent house fires."
"We also run an education programme, Fire Wise, for Year 1 and 2 pupils in terms of fire safety in the home. That assists us with the children going home and putting these messages into the home."
He said leading into winter, residential fires did become more of a risk because of fireplaces and heaters but there were some tips people could follow to keep safe.
"Ensure that you get your fireplace swept, use the metre heater rule (all clothing should be at least a metre from the heater). If you have a gas heater ensure there is ventilation in the home, make sure your fire is out or safe before you go to bed, and same with your heaters."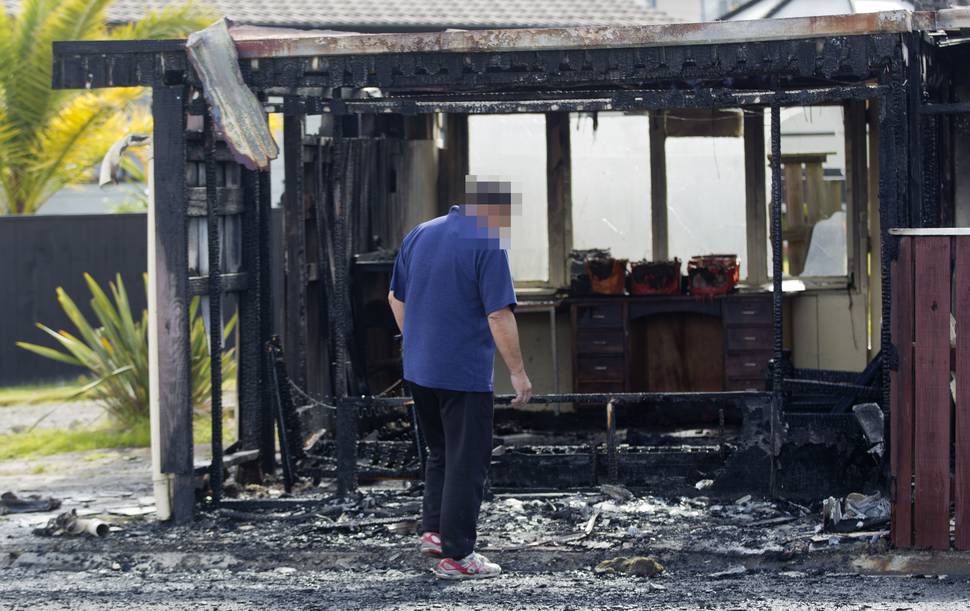 He said candles were extremely dangerous: they should be extinguished before going to bed, and matches and lighters left out of reach of children.
"Make sure your smoke alarm is working. The Fire Service will give you a free home safety check if you are concerned."
He said families should have an escape plan and meeting point, and they should practise fire drills on a monthly or quarterly basis.
Mr Beehre was asleep at his rented property when his smoke alarm went off about 5am in August last year. Thinking it was his phone alarm, he ignored the beeping. He woke up in thick smoke and managed to escape- naked and in the dark-through a kitchen window.
Standing outside on the corner of Devon and Arthur Sts, Mr Beehre said he felt "helpless".
"You just can't do anything. You want to run in but you can't. You're trying to stay away but you want to go in and get stuff."
Mr Beehre said he lost "pretty much everything" in the blaze, which was started by an electrical fault.
Fire Service national adviser Todd O'Donoghue said electrical faults were the second leading cause of house fires, but fell well behind the leading cause: cooking.
"The single biggest cause of house fires still remains with cooking being left unattended, or people trying to cook while they're under the influence of alcohol," Mr O'Donoghue said.
"The unfortunate thing is while [the fire safety message] is getting through to a lot of people, there is also a lot of the public who it's not getting to, and they're getting complacent thinking it will never happen to them. "We need people to realise that the risk of fire is actually very real."