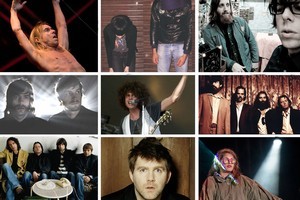 A handful of previous headliners will return to Mount Smart Stadium in January, to join a host of newcomers for the 2011 Big Day Out.
Tool, Rammstein, M.I.A., Iggy and the Stooges and LCD Soundsystem will headline the festival when it returns to Auckland for the 17th time, on Friday January 21st.
The recent craze of performing albums in their entirety has a showing, with Brits Primal Scream performing their 1992 Mercury Prize winning album; Screamadelica.
And indicating they had a bloody good time last month, Shihad will again perform The General Electric.
Other international acts confirmed at this morning's breakfast briefing (coffee and croissants, and some filo tart things - very rock and roll) were Nick Cave off-shoot Grinderman, The Black Keys, Deftones, CSS, Ratatat, Crystal Castles, Lupe Fiasco, Wolfmother, Andrew W.K, Plan B, The Jim Jones Revue, Booka Shade, Edward Sharpe and The Magnetic Zeros, Bloody Beetroots Death Crew 77, Die Antwoord, Vitalic, John Butler Trio, Airbourne and Birds Of Tokyo.
Locally speaking, Street Chant, Die! Die! Die!, The Naked and Famous, Bulletproof, Six60, I Am Giant and Kids Of 88 are all on the bill.
Campbell Smith, the New Zealand Big Day Out promoter, called this announcement "more of a confirmation than an announcement", following the lineup being released on the Australian BDO site early this morning, which was widely repeated on blogs, Twitter and Facebook.
Let the lineup debate begin.
The ticket price has risen this year to $150 plus booking fee, which is being blamed on 'the GST rise and a whole bunch of other stuff.'
LOWDOWN
What: Big Day Out of course.
When: Friday January 21st 2011, 11am.
Who: Did you miss the paragraphs above?
Tickets: $150 + booking fee. On Sale Friday October 8th. Strict limit of 4 tickets per customer. Available from Real Groovy, Marbecks, all Ticketmaster Outlets, phone and credit card bookings 0800 111 999 or Ticketmaster and from the Big Day Out website.