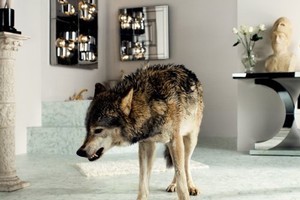 Rating: 3/5
Verdict: The un-Seeded Nick Cave rocks hard once more.
Nick Cave launched his Grinderman side project - essentially a stripped-down Cave & the Bad Seeds with both the guitars and the black comedy factor turned up - with the hearty self-titled debut album of 2007.
This second one, which comes with a helpful "2" in its title, continues on in the same noisy rude spirit.
The reason for the stripped-back band isn't just recessionary. It's one of cutting back on all the optional extras his sprawling usual firm of backers offers.
"In the Bad Seeds," he told The Guardian recently, "you play a song, and everyone's grabbing a ****ing maraca, y'know?"
Which isn't to say Grinderman is a return to Cave's bad old days of the Birthday Party.
That band was an entirely different chaotic, violent proposition.
And while most of the nine songs of Grinderman 2 might not have the finesse or the cinematic horizons of the Seeds, it still manages to be something more than the one long punk-blues riot suggested by lengthy opening track Mickey Mouse and the Goodbye Man.
The likes of When My Baby Comes offers up keening strings over a folky pluck-athon which builds to a towering psychedelic spiral.
Later the variously lovely and outlandish Dylanesque discourse of Palaces of Montezuma wouldn't have sounded out of place on Cave and the Seeds' last truly great album, 2004's Abbatoir Blues/The Lyre of Orpheus.
But mostly, the nine-song set brings the noise and the irreverent humour right from that Stooges-like opener, through Worm Tamer's mad serpentine-themed boogie ("My baby calls me the Loch Ness Monster/ Two great big humps and then I'm gone"), through to equal-opportunity blasphemies of Heathen Child.
All this and possibly the first mention of America's media queen ("What's this husband of yours even given to you/Oprah Winfrey on a plasma screen/ And a brood of jug-eared buck-toothed imbeciles/The ugliest kids I've ever seen") in a blues song. Albeit one called Kitchenette which is one of a few lesser tracks, and one that is more memorable for its VIP punchline than anything else.
Still, if there's a slight uncrafted patchiness to Grinderman's songs, Cave and co make up for it in combustive energy and off-the-cuff wit. And like those besuited Bad Seeds, they are a band whose cuffs are smarter than most.
-TimeOut