Seven days in the life of the I Am Giant singer.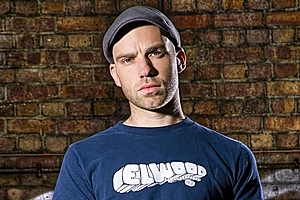 Friday night drinks? Meet me at:
I have been on tour since I got to New Zealand so the only bars I know are the ones we have played in - it's a long old drive but I'll probably be hitting Bar Bodega in Wellington, one of the standout bars I've played at so far ... Also Altitude bar in Hamilton, Those guys rocked REAL hard when I AM GIANT played there. If i was in London I'd be hitting 93 Feet East on Brick Lane in central or The Fighting Cocks in Kingston Upon Thames which is southwest London. In Auckland I'd be at a loss so I'd need a chaperone.
Where I'll be wearing my new:
Any pair of Puma Hi Tops I can get my feet into, I'd wear them on my hands if i could ... And anything by Trainerspotter (a London-based label) and Umbro by Kim Jones.
And this weekend I'm planning on:
Thursday night I'll be rocking the Kings Arms in Auckland with I AM GIANT. The rest of the weekend, no plans.
But first I'll need to refuel at my favourite cafe:
I've yet to find what us poms know as a "Greasy Spoon" - the kind of place where you get fry-ups cooked in so much fat that you're in danger of having a heart attack.
Saturday evening. If my dreams came true there would be a gig by:
A band comprising Stevie Wonder, Marvin Gaye, Rage Against the Machine, Tool, George Harrison and The Mars Volta! HA! Oh if Damon Albarn could pop in for a track or two that would do the trick.
On my stereo/headphones right now is:
Jamie Lidell. This dude has a voice like chocolate, really good soul. And a London-based band called Plugs
The books I can't put down are:
Mr Nice by Howard Marks, I've read that book about 3 times now.
The TV show I take the phone off the hook for is:
Deadwood ... Why won't they do another series? Some things are best left finished on a high I suppose ... !
The movie I've been dying to see is:
The Ian Dury movie, It's been out ages I know but I Am Giant keeps me so busy I never get time.
* Ed Martin is the frontman of NZ-UK band I Am Giant who play the Kings Arms, Auckland, tonight