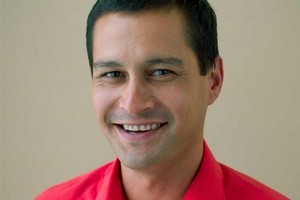 My neck hurts just thinking about it. But come Saturday morning, it will be a satisfying ache to endure knowing that we - that's you and I, Shihad fans - put our bodies and ears on the line to hear a classic and beautifully brutal Kiwi album from start to finish. I'm talking about Jonny Toogood and the lads playing Killjoy at the Powerstation tomorrow night.
The band will already have played the 1995 album twice before reaching Auckland - having kicked off in Christchurch last week, then Wellington, and they play The General Electric tonight in the capital before hitting the city of sails - so they will be well rehearsed. Which is just as well because to make it a truly worthwhile experience they really have to nail those rupturing, and thrilling opening riffs of You Again perfectly.
They will also be playing The General Electric on Saturday, but if you ask me that is a far less heavy-going workout for your neck (more on that later).
I've heard most of these songs live numerous times before.
You know, starting back in the glory days of the 90s in Wellington when I was one of those annoying, drunken idiots up the front of Shihad gigs at the Carpark or the James Cabaret screaming "Screwtop, Screwtop" (my favourite Shihad song) at poor old Toogood. He ignored me of course, and good on him, I would have too, but man they were great, sweaty shows.
However, there's a certain mystique, intrigue, and for a fan-boy like me, a must-see element to a band playing an album in its entirety - let alone two.
I've only ever seen Sonic Youth play Daydream Nation all the way through (a spiritual experience considering it's in my top five favourite albums), and the Pixies rip through Doolittle, but Shihad is - by my reckoning anyway, so please let me know otherwise - the first New Zealand band to do it.
Not surprising really considering they are one of the few Kiwi acts who have been together long enough and released enough albums to warrant it.
These shows are to celebrate what you'd imagine the band believe to be their two classic - or best - albums.
But are they that good? Are they classics?
Killjoy, a dark, heavy and melodic beast with mangled and squalling songs like Gimme Gimme and the beautiful Deb's Night Out, is the record Shihad defined their sound with. It's brooding and stroppy, beautiful and rebellious, and most importantly, uncompromising.
So if you ask me, yes, Killjoy is all that it's cracked up to be. The General Electric, not so much.
Though it remains the band's biggest-selling album, the one where they truly crossed over to the mainstream and which made them the country's premier rock band, it's not as powerful as Killjoy.
Apart from the wonky synth on Sport & Religion the song does get a little dreary; The Metal Song is stilted and confused; and while Thin White Line and Just Like Everybody Else are fiery statements they always sounded rushed to me. Don't get me wrong, it's a great album, just not a classic.
In saying all this, it turns out I won't be at the Killjoy show, or Saturday night's General Electric gig, because we move into our new house tomorrow and going out to a rock 'n' roll show that night is probably not the best look.
Not that I care (well, I might be a little jealous) because my favourite Shihad album is Churn, their brute of a debut from 1993. So I'm waiting for next year when the lads come back and play Churn and the "Fish" album (Shihad) on consecutive nights.
Until then, make sure you put your neck out for me would ya?
- TimeOut