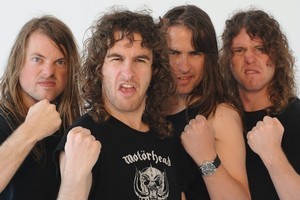 It might have something to do with our infamous binge-drinking culture. But it was New Zealand that picked up on Airbourne's good-time bozo-rock 'n' roll first, even before the beer and whiskey-drinking masses in their Australian homeland did.
Songs like Too Much, Too Young, Too Fast - ideal inspiration for necking a few cold ones, don't you think? - off 2007 debut album Runnin Wild struck a chord.
Sweaty, chest-beating front man Joel O'Keeffe says the band's early popularity here comes down to getting played on radio station The Rock.
"We had airplay. Bang. And that got out across the nation, I guess. And whenever we come to New Zealand it seems everybody loves to have a good drink and loves to have a good time."
You see, if you haven't already guessed, drinking to Airbourne's music is a given - be it the beer-swilling antics of Runnin' Wild or the whiskey-soaked excesses of this year's second album, No Guts. No Glory.
They are up there with the best drinking bands in the world.
"I'm not sure if we deserve that accolade," laughs O'Keeffe. But he'll take it.
And it doesn't matter what you're having. Because these days Airbourne are doing okay, with video game endorsements galore and they are playing and partying their way around the world, which means they can afford more expensive tipples.
"Yeah, we like a few fancy ones," he says. "A few of the boys, and the crew like single malt - and I don't mind a drop myself. And they only usually drink the finest," he laughs.
Not bad for a band from the coastal Victorian town of Warrnambool, who were brought up on beer and barbecues, and who sound unashamedly like fellow countrymen AC/DC, albeit with a little bit more reckless Motorhead action thrown in.
So with these humble roots, and this Aussie pub rock sentiment running deep, it's no surprise O'Keeffe's preferred drink is still a beer. And listening to such Airbourne classics like Blond, Bad, and Beautiful (best, er, lyric: "upstairs and downstairs she's got it all") and fist-pumping anthem Raise the Flag wouldn't be the same without a coldie in your sweaty little hand.
But, from personal experience, O'Keeffe has a safe and sensible drinking on the job message for all budding rockstars.
"When you first start out as a band and you actually get to that point when they give you a rider, a free slab or something and you drink the whole f****** thing and fall off the stage, after that you work out, 'that's a bit too much. I might need to dial it back a bit'. So once you've worked out the perfect amount of alcohol you can have without falling off the stage and play all your parts, then you are good as gold. And it's best to work that out at the beginning," says O'Keeffe, sounding every bit like Uncle Joel the veteran rocker.
"And if you haven't worked it out after 10 years then you might have a problem with alcohol, I don't know," he says.
It has been nearly 10 years since O'Keeffe and his brother, drummer Ryan, started the band. He is the self-confessed showman ("I've always been an idiot who likes to climb things. Maybe I have ADD, I don't know.") whereas his brother is the serious and considered one.
As for the constant AC/DC comparisons, O'Keeffe says yes, they love the band, but they are also big Bruce Springsteen fans (during the recording of No Guts. No Glory they slept in the recording studio like Springsteen and the E Street Band did for Born To Run), as well as Johnny Cash and Australian icon and balladeer John Williamson (who sometimes sings Waltzing Matilda at the rugby).
"We like lots of different types of music, but it has to be actually recorded. We're not going to like anything done by a synthesizer or digitally or anything like that."
They are now "kicking arse" in Europe, with a loyal fan base both here and across the Tasman (in New Zealand No Guts. No Glory debuted in the top 10), and they are now working on America.
"We've got a bit of work to do in the US. It's a big place and you've got to go around it a few times," he laughs on the phone from Tulsa, Oklahoma.
In the US it probably doesn't help they don't grasp the colloquial meaning of the word "piss" - as in booze.
"It's an Australia and New Zealand thing. It doesn't translate in some countries."
But you can bet Airbourne are on a mission to convert - and corrupt - them.
LOWDOWN
Who: Airbourne
What: Oz rock good time boys
Where & when: September 30, Powerstation, Auckland
Albums: Runnin' Wild (2007); No Guts. No Glory, out now
-TimeOut