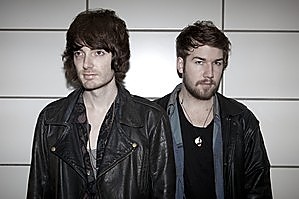 Sam McCarthy is not your typical fetching pop star. He's tall, skinny, and slightly unkempt, but there's a confident, verging on cocky, magnetism about him. And tonight, bouncing around on stage at the Powerstation, the frontman and singer of Kids of 88 is at his flamboyant best, fondling a long string of pearls around his neck, occasionally writhing around on the floor, and eventually stripping down to his singlet to give the girls in the front row a thrill.
Kids of 88 may be the support act for US band Passion Pit tonight but they kick out their unashamedly synth pop-inspired jams - that also tip their hat to the fuzzier end of the 80s and bands such as the Jesus and Mary Chain - like they're the headliners.
Opener and latest single Downtown immediately lures the crowd towards the stage, some running excitedly; new-wave-meets-rap anthem Sugarpills gets them swooning and swaying; and when it comes time for last year's debut hit My House they're jumping and whooping as McCarthy hits them with the lines, "I'm gonna take you back to my house, I love the feeling when you touch me baby ...".
A few days earlier at an Auckland cafe, he's just as self-assured, only not as showy, and his smiley knob-twiddling side-kick Jordan Arts is more than happy to take the back seat, chipping in when he feels like it (which is not that often).
McCarthy is reflecting on the year or so since My House, during which time they've been writing and recording their debut album Sugarpills, out this week.
"We're a lot more professional as opposed to having these wild songs that do their own thing, and now we're a controlling mothership," he says with a smile.
"It's fun, because you can be really confident about stuff that you make as opposed to wilting away and going,'Oh yeah it's alright'. Which I think is a tricky thing in New Zealand, where you need that good combination of confidence not cockiness. People will cut you down if you're cocky, but if you're confident about it, that's not saying that you think you're amazing, it means that you want to do it the best that you can."
On Sugarpills Kids of 88 show there's more to them than the banging sleaze of My House and the cooing suggestive sass of Just A Little Bit.
There are beautiful moments, like the blissfully dazed San Fran written by Arts, and SQRL is a big throbbing trip that ends the album.
With the album recorded in Sandringham at "The Tearooms" and "The Creature Club" in Mt Eden - "they're just houses that I've lived at," says McCarthy - Kids of 88 wanted to create an album as opposed to a collection of catchy singles or a straight-up club record.
"We're good at that," says McCarthy, "and that's what's worked for us up to this point but we took on the challenge because we didn't want to be pigeonholed."
"Because it would have been pretty easy for people to say, 'You guys can only do this. That's it'," adds Arts.
San Fran for example was a song he came up with to put his "dreamy" stamp on the album. "I'd been making all this dreamy music, and I just wanted to make you feel like you're in this treehouse. It's got a real tree hut vibe which is your ideal world when you're little."
"And it is kind of like a tree hut on the album," reckons McCarthy, "because it takes you away from the pop structure and I think you need something like that on an album, even just for the listener to be able to step back from the album a little bit."
Ultimately, though, they make fun music that doesn't take itself too seriously, yet it's calculated in its pop attack and given more grunt with guitar and drums (live they are played by Luke Van Hoof and Jaden Parkes respectively) rather than just a keyboard and computer.
"But we don't want to treat it like an opus, because otherwise it will be over-thought," says McCarthy. "It's about the beat, but it's whatever you put on top of it that's the key. That's what I love about a nine-piece band like Happy Mondays, it's dance music but it's not just a bass and drums, it's more than that."
The seeds of Kids of 88 goes back to early 2008 when McCarthy - also a member of pop punk band Goodnight Nurse - came up with "30 seconds of fun" that evolved into My House.
His band mate Joel Little (who is still a key songwriting member of Kids) encouraged and helped him finish the track. Then along came Arts, an old high school buddy of McCarthy, and 18 months after that initial idea C4 picked up the song to use as a promo. Although it didn't quite go on to top the charts it was a big hit and the ever-so tasteful video with girls - "we used dancers as opposed to hot promo girls" - stripping off their clothes and throwing paint around also got them noticed.
Since My House they've taken their time, releasing two more singles, Just a Little Bit and Downtown, and they've been forging interest overseas in the US, Europe and Australia, where they recently supported the Scissor Sisters.
The US and European visits were a chance to see what the big bad world of pop music was like - and they laugh how their self-deprecating Kiwi attitude didn't work at all, especially in the US.
"That really annoyed me," says McCarthy, "because that's half of who I am. Fifty per cent of me is still recovering from the jokes I make about myself," he smiles.
"Our line for the whole trip was, 'What are we doing here bro?'. That was the thing that got us through because it gave us a chance to step back, and look at it from an almost humorous point of view. If we'd taken it seriously we would have been duped."
Australia on the other hand has been "fruitful" and it's been a "kick in the arse" to have to step up and make audiences across the ditch believe in their brash and shouty brand of 80s pop like New Zealand audiences have. Still, only time will tell if the Aussies - and the world - like the way Kids of 88 touch them.
LOWDOWN
Who: Kids of 88
Line-up: Sam McCarthy (vocals), Jordan Arts (keyboards/programming), Luke Van Hoof (live, guitar), Jaden Parkes (live, drums)
Debut album: Sugarpills, out now. Review here
-TimeOut