Rating:
4/5
Verdict: Californian heavies wake up and make a return to form.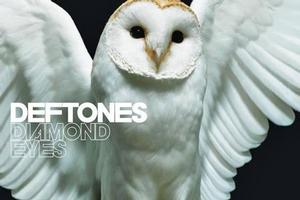 The Deftones' previous two albums were bogged down by dour and lifeless songs, with singer Chino Moreno sounding sleepy and stoned rather than intoxicating as like he was on 2000's beautifully melodic and bludgeoning White Pony.
But on Diamond Eyes Chino is back to his shrieking, yowling, and soaring best with a unique voice that sounds like he's singing through a loud hailer. On Prince he's out to lynch you with sniping lyrics ("You paint the room blood red with tears") while Beauty School is a romantic, heavy serenade.
And the sonic grunt and slamming spite of the music also returns, the title track coming on like a more melodic and polished Pantera with its graunching guitar riffs, and the lurch and grind of You've Seen the Butcher unlike anything they've done before.
The album's buoyant and uplifting tone is inspired by the band's bass player Chi Cheng, who suffered a disabling brain injury in a car accident in 2008. The band were intent on not making a "sad" album - and the result is a mix of brutality, beauty and heavy tranquility.
The only blight is Cmnd/Ctrl which has a touch of nu metal about it with Moreno shouting, and rather letting rip with that powerful sweet wheeze of his. That song aside, Diamond Eyes is the band's best album since the pairing of 1997's Around the Fur and follow up White Pony.
-Scott Kara