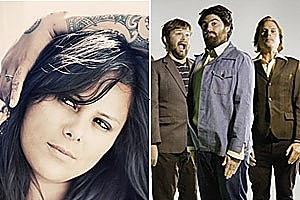 The finalists have been announced for this year's Vodafone New Zealand music awards at a function in Auckland this evening.
Gin Wigmore and Dane Rumble dominate with six nominations each. Although when the three technical awards are included the overall leader is The Phoenix Foundation with a total of eight - and they got off to a good start with a technical awards clean-sweep.
Anika Moa and J. Williams are finalists in three categories each.
Also announced tonight was the recipient of The New Zealand Herald Legacy Award - Shihad. The band will be officially honoured at the awards ceremony on October 7th and will be inducted into the New Zealand Music Hall of Fame.
For the first time, this year a critics' choice prize, decided by a panel of 13 music critics, will be awarded to an act deemed to be the best of the up-and-coming crop.
The three finalists are Street Chant, Home Brew and The Naked and Famous. To be eligible acts can't have released an album during or before the eligibility period. The award will be given at a showcase event at the King's Arms on September 15, after all three have performed in a final attempt to sway the judges.
No finalists are announced for Highest Selling NZ Single, Highest Selling NZ Album, NZ On Air Radio Airplay Record of the Year and International Achievement awards, which will awarded the main awards ceremony, hosted by Shannon Ryan and comedian Ben Hurley.
The full list of finalists..
Vodafone Album of The Year
Anika Moa - Love in Motion
Dane Rumble - The Experiment
Gin Wigmore - Holy Smoke
Shapeshifter - The System Is A Vampire
The Phoenix Foundation - Buffalo
Vodafone Single of The Year
Dane Rumble - Cruel
Gin Wigmore - Oh My
J.Williams - You Got Me
Kids Of 88 - Just A Little Bit
The Phoenix Foundation - Buffalo
Steinlager Best Group
Shapeshifter - The System Is A Vampire
The Checks - Alice By The Moon
The Phoenix Foundation - Buffalo
Best Male Solo Artist
Connan Mockasin - Please Turn Me Into The Snat
Dane Rumble - The Experiment
J.Williams - Young Love
Mazda Best Female Solo Artist
Anika Moa - Love in Motion
Gin Wigmore - Holy Smoke
Hollie Smith - Humour And The Misfortune Of Others
Pacific Blue Breakthrough Artist of The Year
Artisan Guns - Autumn
Dane Rumble - The Experiment
Gin Wigmore - Holy Smoke
PPNZ Best Rock Album
Dimmer - Degrees of Existence
The Checks - Alice By The Moon
The Phoenix Foundation - Buffalo
Best Pop Album
Anika Moa - Love in Motion
Dane Rumble - The Experiment
Gin Wigmore - Holy Smoke
Best Urban / Hip Hop Album
David Dallas - Something Awesome
J.Williams - Young Love
Young Sid - What Doesn't Kill Me
Kiwi FM Best Aotearoa Roots Album
Fly My Pretties - A Story
Hollie Smith - Humour And The Misfortune Of Others
Opensouls - Standing In The Rain
Best Music Video
Nathan Hickey - Buffalo (The Phoenix Foundation)
Sam Peacocke - Sleepeater (Shihad)
Tim Van Dammen - Just A Little Bit (Kids Of 88)
Best Electronica Album
Bulletproof - Soundtrack To Forever
P-Money - Everything
Shapeshifter - The System Is A Vampire
Best Gospel / Christian Album
Edwin Derricutt - Three Hours South
John Michaelz - Walk on Water
Magnify - Wonderland
Best Classical Album
John Psathas - UKIYO
NZTrio - FLOURISHES
Simon O'Neill - Father & Son: Wagner Scenes & Arias
Strike Percussion - Sketches
Vodafone Peoples' Choice
Gin Wigmore
Dane Rumble
Kids of 88
Shapeshifter
Stan Walker
Technical Awards - announced tonight
Best Album Cover
Paul Johnson for Buffalo (The Phoenix Foundation) - WINNER
Rebekah Atkins, Kieran Rynhart, Mikee Tucker and Anita Liu for A Story (Fly My Pretties)
Ryan Marx for Everything (P-Money)
MAINZ Best Engineer
Andre Upston for Magnetic (Miriam Clancy)
Lee Prebble for Buffalo (The Phoenix Foundation) - WINNER
Lee Prebble for A Story (Fly My Pretties)
MAINZ Best Producer
Jeremy Toy for Standing In The Rain (Opensouls)
Lee Prebble and Barnaby Weir for A Story (Fly My Pretties)
The Phoenix Foundation for Buffalo (The Phoenix Foundation) - WINNER
*For more information see tomorrow's TimeOut
*Tickets for the Vodafone New Zealand Music Awards are $20 from Ticketmaster
*C4 will broadcast the awards live from 8.30pm on October 7th
-Herald Online