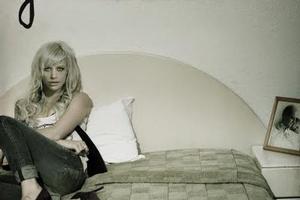 Rating: * * * *
Verdict: Smokin' debut from New Zealand's newest pop chick.
The first sign Gin Wigmore has moved on from the theatre showtune pop of her breakthrough hit and Air New Zealand ad jingle, Under My Skin, is the song Hey Ho. It's the second song on her debut album, Holy Smoke, and it has so much going on, yet it comes across beautifully simple and perfectly formed. You've got Wigmore's voice prowling and purring away, an arcing fuzz guitar, some ghostly spaghetti western moments, a regal trumpet and a gang of singers joining her on the chorus that all come together to create something spooky and masterful.
Wigmore's always had songwriting chops, winning a major international songwriting competition at 17 with a song written for her father's funeral, and now the 23-year-old has come up with a lean and mean mix of rock 'n' roll, soul and pop. And her band, the Cardinals - the former backing band for alt-country maverick Ryan Adams - give her songs a thumping edge and sonic depth that Under My Skin lacked.
There are still hints of her theatrical side on songs like Don't Stop, with its opening "twinkle toes" line and the childlike music box-style piano, but these days it's more playful and naughty pop than a chorus line from High School Musical.
Then there's the gentle majesty of heartfelt ditty I Do; the powerful serenade of New Revolution (with a wailing and unashamedly over-the-top guitar solo); and the slightly bonkers schlock rock of Mr Freakshow.
Wigmore's most unique quality is her voice - and what a funny old voice it is. It's got a steely soulfulness to it, a rollicking power pop quality also, and sometimes it's harsh, like Eartha Kitt's yowl once was. However, the thing about her unusual vocal lilt is that you believe in it, unlike so many of the other nasally female soul voices around these days.
It could very well sound contrived but, well, it never does get under your skin in a bad way.
As a story in TimeOut a few weeks ago revealed, Wigmore has a bar-fighting rebelliousness to her, and while that feistiness doesn't come through lyrically or musically, it does show through in her gutsy delivery. There's something Tina Turner-ish about Wigmore's bold and ballsy voice and the way she belts out the songs while staying true to the tune.
There was a lot of hype surrounding Wigmore, and she's lived up to it with a tight 10-track album - and with songs like latest single Oh My and, most importantly, Hey Ho, she's made a stunning songwriting statement.
Scott Kara