Rating:
3/5
Verdict: Producer and beats man dances with everything but the kitchen sink.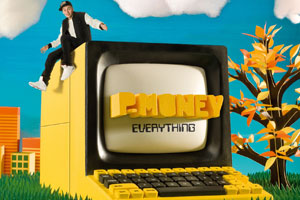 On Everything P-Money takes off into an oonst-driven dance direction. He signalled that change more than 18 months ago when the album's catchy and cute title track came out featuring smooth, synth-voiced singer Vince Harder.
That song opens the album, and for the most part sets the tone with its dizzying dancefloor appeal.
It also gets the remix treatment here and the Rap Mix beefs it up substantially from the sashaying sensation it originally was.
Harder is one of P-Money's best finds - while he sounds a little wimpy on the skittish soul of Weak, he drives the snappy and lashing beats of Love Alone along until the song spirals beautifully out of control a minute from the end.
P-Money has always been a clever beat-maker - be it for the likes of Scribe, or for himself on his two previous solo albums.
And even though the dance-dominated mood of Everything sometimes makes it sound lightweight compared to his more staunch and fun beats of the past, it mostly works.
The camp razzmatazz of The Soul is a little silly; some of the rhymes are tired and basic (there is no room for Brad and Angelina, or Super League team Leeds, in a song); and the most hip-hop song on the album, Big Things Pt. 2, is also the most forgettable.
While it takes a little getting used to, the swooning serenade of Falling Down (which sees P-Money teaming up with Pluto's Milan Borich) is an uplifting highlight after the cumbersome Big Things where Scribe, David Dallas and PNC rhyme for supremacy.
This album marks Scribe's first major return to the music scene after some lay time. He starts off stilted on Big Things (but that could just be for dramatic effect), and then warms up for Green Light (although "Green light go, yellow light, slow ..." is hardly Jay-Z).
Then again, that same song also features a simple and triumphant comeback line from the Crusader with the eloquent and cutting, "Hi haters, I'm back from my hiatus."
The party highlight is Dance With You, with PNC's slick posturing and a laid-back and deep P-funk lope, and it's here where P-Money gets one nation under a groove.