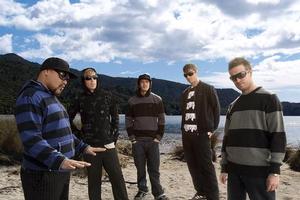 Shapeshifter reckon they have come up with something that has never been done before on new album The System Is A Vampire.
It's a bold claim, but they might be on to something. System is not a live album as such, because it was recorded in the studio. "But," says multi-instrumentalist Sam Trevethick, "with this one we are trying to capture the energy and power of our live show, but in saying that we don't want it to sound like it's a live concert. We want it to sound like a studio album."
Confused? Let Trevethick, who along with Paora Apera (aka the band's MC and singer P Digsss) is holed up at a recording studio in Western Springs putting the finishing touches to the album, explain himself.
"We wanted it to sound like our band. We wanted it to sound atmospheric, exciting and powerful, and all those things you get from electronic music that you don't always get from a band album, a rock record, or your average band."
Don't get him wrong. He's not being a snob, because Shapeshifter have never been a typical band. Their innovative live take on drum'n'bass gives the traditionally electronic-based music more depth.
"We wanted to have a real physical weight [to the album]. Not going to the very end of the spectrum of hard dance floor music, but towards that end, but balance in the other harmonic and vocal side. So it's all about getting the balance right and having that feel, dynamic and emotion just like you're at a live gig.
"It'll sound better than the live experience though," he adds.
By way of comparison, Trevethick wanted System to sound something like Tool's classic 1996 album Aenima. In an unlikely pairing, Shapeshifter found themselves supporting Tool in Australia in 2007 at the request of the arty American metal band, which had Trevethick "jumping for joy".
"Aenima is something I keep thinking about because with Tool they create another world. It sucks you into this land of imagination and that's what we are trying to do."
While it's a different style of music - far more soulful and dancey - System is a similarly imposing monster.
And it has a lot to do with the live drums played by demon drummer Redford Grenell. The band's three previous albums have mixed live and produced drums, as well as sequenced percussion. This time round Grenell is live and in full effect.
It takes stamina and energy to power a whole album, so the band decided to pack up engineer Evan Short's studio, truck it to a lovely spot in Raglan above the sea and record the drums there.
"It was out of the way, no one hassled us, and we wanted to have the time to not be pressured and rushed, because it's quite hard out for Redford in what he was having to do," explains Trevethick. "So the whole modus operandi was to have that opportunity to take our time."
Listening to System, it's not so much a song-based album, more like a complete experience. It starts with welcoming first single Dutchies ("It pushes everything out of the way and puts you in the moment," says Trevethick), there's the dancehall swagger of Fire, then the escalating breakbeat soul of Twin Galaxies, and on to the sonic call to arms of System, a smouldering tribal track that turns rampant and noisy.
Shapeshifter are not ones for bold verbal statements, but the title of the album is a nod to the band's fiercely independent and DIY approach to music.
"We realised a long time ago we need to do it our way to get it right," says Apera.
Formed in 1999 by Trevethick, Grennell, Nick Robinson (bass, keyboards), and Devin Abrams (synth, saxophone), who met in music school in Christchurch, Shapeshifter went about incorporating everything from dub, electronica and hip-hop, to funk, soul, and rock into their sound.
The resulting debut album, Realtime, was a blistering, often heavy, and sometimes beautiful piece of local electronica released in 2001.
Apera joined in late 2003, adding a bigger, bolder stage presence along with his feel-good, uplifting MCing and vocal style.
They released the Riddim Wise LP in 2004, which went on to sell more than 15,000 copies, but with the release of Soulstice in 2006, with songs like Bring Change and Electric Dream, they struck a new level of popularity while still retaining that propulsive and rousing Shapeshifter style.
Around this time they made the decision to tour more; they got a manager on board and started paying themselves a weekly wage. They headed to Europe and while they've played their "fair share of shit gigs" over there, they have now established a loyal following, which means they can go back and be assured of an audience.
"It's just about being persistent, and keeping on going back, and we haven't made a significant amount of money over there yet," says Apera honestly.
"But every time we go back you can see the growth. And we've had our disheartening gigs playing to f*** all people but that's where you get put in your place and you strive for it again.
"You know, all it takes is to be playing in front of people who don't know your shit and it rekindles the flame of some of your songs again. And you're thinking, 'That's right, there is some gold in this'."
So where are Shapeshifter at now?
"We are still progressing musically and in terms of the amount of people who enjoy our music," says Trevethick. "We throw everything into this - emotionally and creatively - and we still get excited by what we're doing.
Adds Apera: "And now that we've been at it a few years, it's starting to pay off. We don't have to have other jobs, we can be musicians and make music. In that sense it's awesome because we don't have to cook for anyone, or make coffee for anyone, and other shit like that."
LOWDOWN
Who: Shapeshifter
New album: The System Is A Vampire, out now
Past albums: Realtime (2001); Riddim Wise LP (2004); Soulstice (2006)