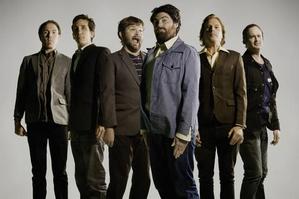 As far as Luke Buda knows, no one in the Phoenix Foundation has ever done heroin. He should know, he's been in the band with his mates for more than 10 years.
But, he suggests wryly, the line "fill our veins with syrup of the stars" on dreamy closing track Golden Ship, off the band's latest album, Buffalo, sounds like it might have a bit of "heroin to it".
Samuel Flynn Scott, the one who wrote the line, isn't doing much to downplay the inspiration. "It's about being drugged by aliens, and they do terrible things to you. I think Luke's son thinks he's hearing 'Sarah of the stars' - that's Luke's partner, Sarah - so his son thinks its really nice, but Luke doesn't want to explain to him that it's actually about being injected with some space heroin so an alien can eat you."
And by the sounds of Orange and Mango - easily the fruitiest and most poppy song on the album, until it takes off into a trippy psychedelic haze for a couple of minutes - the Phoenix lads might have been on a little something for that one too.
"The first half is a bit silly really," says Scott, "and the second half is really deep sounding with layers and layers of strange effects - and if you listen to it in the right chemical state I'm sure you'd rather enjoy it," he smiles.
Welcome to the weird, charming, and beautifully bizarre world of the Phoenix Foundation where aliens and buffalos roam, and oranges and mangoes hook up together to tango.
Then again, the band are also just as at home chatting over plain old coffee and scones - the substances of choice on the lovely wafting album opener Eventually.
They are a unique band - eccentric even - and it's not just because their dreamy and strangly catchy pop music, that Buda sometimes refers to as "psychotic", is oddball. The way they operate is also unusual too.
When they're not making music together they're off doing solo albums, and other musical projects, and they are all songwriters in their own right.
In the time since their last album, Happy Ending, from 2007, they have released a string of solo albums, including Buda's Vesuvius, Scott's Straight Answer Machine with band the BOP, and drummer Richie Singleton's excellent dub and downbeat-inspired album as Rebel Peasant.
So this time round, they all agree, the reconvening of the band was interesting and they decided to do things a little differently.
"The people don't change that much," says Singleton, "but it was different, and not because we'd done solo stuff, it was different because every time we come back together we are increasingly seasoned as artists. Which means there's a much more relaxed approach."
"Everyone," continues Scott, "had done solo albums and got stuff out of their system and we were coming back together and experimenting together."
They gathered at the Car Club - the practice room they share with a bunch of car enthusiasts - to start recording to give them the luxury to experiment without having the time and money constraints of being in their traditional Wellington studio spot of the Surgery.
Buda: "Working on the album was a very different vibe. We're pretty good at just getting on and doing it but sometimes you can feel a bit inhibited [by the budget].
"Whereas at the Car Club we had the mental and physical space to take whatever paths we felt like."
He says this also meant they had a more ruthless approach to dealing with songs - and if they weren't working, or they didn't like them, they'd drop them.
After all, as Scott says, "There are plenty of songs in the world."
"Also," continues Buda, "it's a far more collaborative effort I think and only Eventually and Bitte Bitte were fully written tracks before we started recording them. Everything else was sort of slapped together."
For Scott, one of the most unique things about Buffalo was guitarist Conrad Wedde's obsessiveness with making "short song idea demos" which took the band back to how they used to record in their formative years. "We were going in working every day on song ideas and just learning [again] how to record stuff quickly and trying to be spontaneous and trying to get back a little of the approach we had before we actually knew what we were doing," he laughs.
"It was kind of like putting yourself in a situation where you can't help but be naive."
They eventually ended up moving to The Surgery - owned by producer and long-time Phoenix collaborator Lee Prebble - to finish off the album so it became a blend of the old and the new.
"I don't feel like we over-worked this record like we did with Happy Ending a little bit," says Scott, "This time we wanted to make music that wasn't about playing a rock song and make music that was a bit more experimental - not that we made an arty record, but I think it is more true and honest to our way of working."
And the result? While Happy Ending had its whimsical moments, it was also a rocky album, whereas Buffalo is a trippy beast but with breezy pop moments.
"Yeah, it's poppy but completely un-radio-friendly too," offers Scott proudly of the crazy, galloping interlude slap-bang in the middle of the title track.
For Buda, Orange and Mango is his pick of the album. "I'm pretty excited by it. It's quite outrageous and it only happened in the last week of recording, because that was an abandoned track. But then Conrad just took to it and the whole middle, psychotic jam-out is basically him having a bit of an explosion right at the end of the process."
Buda also believes it's the band's "most contemporary" sounding song to date. "I'm sure that comes with its dangers, and I don't think we've done something just to be trendy, don't get me wrong, but it's influenced by some of the stuff we've been hearing."
The release of Buffalo heralds a mini-milestone for the Phoenix Foundation, with Scott pointing out that they are now all in their 30s.
"So getting our fourth album out feels cool because there aren't that many New Zealand bands putting out that many albums at the moment.
"There's more to be achieved out there and we're pretty stoked to be able to make records that people pay a little bit of attention to and listen to - but it would nice if a few more people in other countries would listen."
And it seems they are.
Steve Jones from the Sex Pistols played Hitchcock from Pegasus on his radio show recently, and when Happy Ending was released in Britain last year it got excellent reviews from The Independent, Mojo and Uncut.
"It's unlikely that sort of thing is going to change our lives," reckons Buda, "but we're taking it as a good omen for Britain that maybe people there will get us.
"I think the music the band make has potentially a much larger international audience than we have now. I'd be into playing 30 gigs a year across Europe and making some money from it."
LOWDOWN
Who: The Phoenix Foundation
Line-up: Samuel Flynn Scott (guitars, vocals), Luke Buda (guitars, vocals, keys), Conrad Wedde (guitars, keys), Warner Emery (bass guitar), Richie Singleton (drums), and Will Ricketts (percussion).
New album: Buffalo, out Monday
See also: Horsepower (2004); Pegasus (2005); Happy Ending (2007)
Where & when: Powerstation, Auckland, May 2