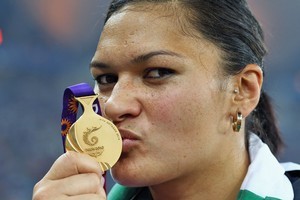 New Zealand secured a second gold in Delhi courtesy of Valerie Adams, which was never in doubt, but it was only one of two medals on day six for the team.
The only other Kiwis on the podium were Greg Yelavich and Allan Earle who took out silver in the centrefire pistol teams event, Yelavich's 12th Commonwealth Games medal.
Day six saw the end of swimming for another four years and New Zealand failed to add to their tally of six medals, the biggest haul since Victoria in 1994.
Australian swimmer Leisel Jones finished the meet with three gold medals, one more than the entire New Zealand team so far in Delhi.
Highlights from day six:
Adams wins gold, breaks Games record
It took Valerie Adams all of one throw to establish that she would not be beaten for gold in Delhi last night.
Yelavich has 12, going to shoot for lucky 13 now
Greg Yelavich enhanced his standing as New Zealand's most successful Commonwealth Games athlete with a silver medal in the centrefire pistol teams event yesterday.
NZ boxers furious after Aloua eliminated
Kiwi boxer David Aloua lost his heavyweight first round bout after the fight was called off, due to a bloody nose, as he led with 40 seconds remaining.
Hockey women to face South Africa in semis
From beauty against England, it was back to beast for the New Zealand women's hockey team overnight, as they ground out an ugly 3-1 Commonwealth Games win over Canada.
Jones equals 10-gold record at Commonwealth Games
Australia's Leisel Jones tied a record career Commonwealth Games medal haul by winning her 10th gold overnight.
See a full wrap of day six
NZ results in Delhi - day six
Medal update:
Gold 2 Silver 14 Bronze 5
Just two medals for New Zealand on day six but Adams' gold moves the team into 10th spot on the medal table. Australia went past the ton overnight and now have 113 medals, 54 of which are gold. England have pulled ahead of the hosts into second spot.
Full medal table
List of New Zealand medallists
What to watch for - Day 7:
Kiwis in action schedule
Medal hope
After a successful time in the velodrome it should be no surprise if the New Zealand cycling team add more medals in the men's and women's road races today. Keep an out for Catherine Cheatley for the women (4.25pm) and Hayden Roulston in the men's race (8.30pm).
Don't miss:
Shooting
Alan Earle and Greg Yelavich look to add to their silver medals in the men's 25m centre fire event (4.30pm).
Hockey
The men's hockey team take on Canada in a crucial pool match, a win will secure a semifinal spot (9.20pm).
Netball:
The Silver Ferns play their final group match against Barbados (9.20pm).
Athletics:
Monique Williams (200m), Nikki Hamblin (800m) and Beatrice Faumuina (discus) all take part in the qualifying stages of their respective events (from 11.25pm).

- Herald online