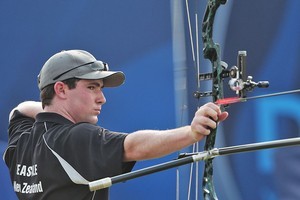 Complete New Zealand results on day six of the Commonwealth Games at New Delhi:
ARCHERY
Compound individual men quarterfinals, Shaun Teasdale bt Johannes Grobler (Namibia) 6-0, semifinals, Teasedale lost to Duncan Busby (England) 2-6, bronze medal match, Teasdale lost to Seppie Cilliers (South Africa) 3-7.
ATHLETICS
Women's shot put, Valerie Adams 20.47m (Games record) 1; women's 200m heats, Monique Williams 23.61sec 3rd fastest qualifier.
BADMINTON
Women's singles, first round, Michelle Chan bt Kristal Karjohn (Jamaica) 21-2 21-7, Anna Rankin bt Juliette Ah-Wan (Seychelles) 21-17 21-19; men's singles, first round, James Eunson lost to Garron Palmer (Jamaica) 7-21 21-10 21-19, Joe Wu lost to Charles Pyne (Jamaica) 18-21 18-21.
BOWLS
Men's pairs group match, Daniel Delany/Richard Collett bt Guernsey 8-9 13-5 6-0, Delany/Collett bt Malawi 13-8 17-4; men's triples group match, Shannon McIlroy, Andrew Todd, Richard Girvan bt India 10-4 8-8; women's pairs group match, Jan Khan/Manu Timoti lost to Northern Ireland 8-6 7-9 1-2; men's singles group matches, Ali Forsyth bt Shaun James Parnis (Malta) 2-0, Forsyth bt Raymond Mascarenhas (Botswana) 5-8 9-6 2-1; women's singles group match, Val Smith bt Rachel MacDonald (Jersey) 11-4 8-6.
BOXING
91kg 1/8 elimination bout, David Aloua lost to Elly Ochola (Kenya) (ref stopped contest); 81kg 1/8 elimination bout, Reece Papuni bt Travis Tapatuetoa (Niue) 5-1.
HOCKEY
Men's group B match, New Zealand 3 (Hayden Shaw 2, Phil Burrows) England 5; women's group B match, New Zealand 3 (Krystal Forgesson, Stacey Michelsen, Clarissa Eshuis) Canada 1 (Robyn Pendleton).
SHOOTING
Men's 25m centrefire pistol pairs, Alan Earle/Greg Yelavich 1140pts 2; women's trap, Natalie Rooney 85 5, Nadine Stanton 87 4; men's trap, Myles Browne-Cole 11th after day one, Allan Sinclair 23rd after day one;
full bore singles, John Snowden 3rd after day one, Mike Collings 9th after day one; full bore pairs, Snowden/Collings 4th after day one.
SQUASH
Women's doubles, first round, Joelle King/Jaclyn Hawkes bt Zephanie Curgenven/Issey Norman-Ross (Guernsey) 11-1 11-1, Tamsyn Leevey/Kylie Lindsay bt Kate Cadigan/Jeannine Cowie (Jersey) 11-3 11-3; men's doubles, Martin Knight/Cambell Grayson bt Aamir Atlas Khan/Farhan Mehboob (Pakistan) 11-7 10-11 11-3, Knight/Grayson bt Samuel Kyagulanyi/Brian Okumu (Uganda) 11-2 11-1; mixed doubles, first round, King/Knight bt Hartaj Bains/Safina Madhani (Kenya) 11-2 11-3.
SWIMMING
Women's 400m individual medley, heats, Natalie Wiegersma 4min 48.96 sec 4 (withdrew from final); men's 200m breaststroke, heats, Glenn Snyders, 2:12.76 4, final, Snyders 2:14.42 8.
TABLE TENNIS
Women's preliminary round, Annie Yang bt Dawn Morgan (Wales) 11-2 14-12 11-7 11-4, Sun Yang bt Megan Phillips (Wales) 11-2 12-10 11-4 11-5, Jenny Hung bt Anqi Luo (Canada) 10-12 3-11 3-11 11-5 11-8 11-8 13-11.
WRESTLING
Men's 96kg freestyle, Aaron Quinlan lost 1-9 to Etienne van Huysstein (South Africa).
- NZPA