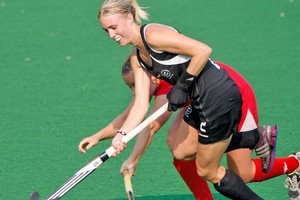 From beauty against England, it was back to beast for the New Zealand women's hockey team overnight, as they ground out an ugly 3-1 Commonwealth Games win over Canada.
New Zealand would have had to lose by seven goals for Canada not to win their pool, yet the Black Sticks still managed to find the fighting spirit to score three goals against an abrasive opponent.
Krystal Forgesson, Stacey Michelsen, and Clarissa Eshuis scored second-half goals to seal a win in sweltering 35degC heat.
It was their fourth win in Delhi, with Wales doused 5-1, Malaysia 5-0 and tournament favourites England 4-1.
Manager Debbie Balme told NZPA the match was always likely to be a difficult one, a day after the intense focus on beating England.
"Today was terribly hot, it's hard to back up after a high like yesterday," she said.
"Now we have to ground (our players) and get them ready for the semifinals."
New Zealand had to wait for the final match in the other pool to see who their semifinals opponents would be - Australia, South Africa and India could all have finished second.
The Black Sticks stayed at Major Dhyan Chand National Stadium to watch that battle unfold, learning they would face South Africa, who slipped out of top spot when they lost 1-3 to India.
Star South African forward Jennifer Wilson may be in doubt for Monday, after leaving the field her face awash with blood from a gash to the head.
Balme told NZPA New Zealand did not care who their semifinal opponents were. They had watched video footage of all three sides, and knew about all of their players.
"It doesn't make any difference, we'll play whoever turns up on the day."
After being locked at 0-0 at halftime, Forgesson scored seconds after the interval, then Michelsen regained the lead 12 minutes into the second half, after Canada had swiftly equalised.
A penalty stroke by Clarissa Eshuis three minutes from time sealed the win.
New Zealand dominated the second half, with Canadian goalie Azelia Liu being called on to turn them aside time after time.
- NZPA