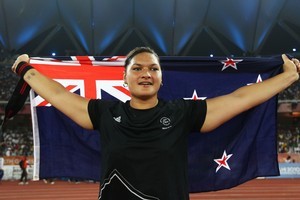 It took Valerie Adams all of one throw to establish that she would not be beaten for gold in Delhi last night.
Adams became the second New Zealander to stand on the top step at the Games, joining pursuiter Alison Shanks who achieved the result on Friday. Hers was New Zealand's 21st medal.
The reigning Commonwealth, Olympic and world champion added another trinket to her growing collection, throwing 20.47m on her first attempt, a whopping 1.44m further than silver medalist Cleopatra Brown of Trinidad.
In a good day for those of Pacific Island heritage, Samoa's Tasele Satupai claimed bronze with a personal best 16.43m.
"Obviously the standard of the Commonwealth is not that high but I was out there to do well, to have a good throw," Adams said. "I wasn't just out there to win, I wanted to throw a good mark."
Commonwealth Games medal table
In difficult, muggy conditions, the 20.47m was just 39cms behind her season best.
It also smashed her own Commonwealth Games record of 19.66m set in Melbourne four years ago.
Adams ripped off six quality throws, never once failing to reach 20m.
"It's what I wanted to do: come in, rip it up, throw big, Commonwealth record," Adams said.
It signals a happy ending to a trying year for the 26-year-old South Aucklander.
"It's the last competition of the season and it's been my longest ever season, so to come out and have a series like that, I'm [really] happy.
"The body's shutting down a bit, I'm getting run down but I came out on top so I'm just stoked, really stoked."
In March she announced she was splitting from long-time coach and mentor Kirsten Hellier. French throwing professeur Didier Poppe came on board and began radically re-shaping her training and modifying her technique.
The results were not immediate, to the angst of some, but by the end of a European season in which she suffered a string of losses to nemesis Nadzeya Ostapchuk, Adams had beaten the Belarusian and thrown out to 20.86m, just 21cms off her personal best.
Poppe said he was thrilled for Adams and added that the changes he has implemented have yet to make their mark, but that is for the future.
In reality she was never going to be beaten in Delhi against a moderate field, but there's an old saying that holds true: You can only beat who you're up against.
---
Tokoroa sprinter Monique Williams last night cruised through to the semifinals of the 200m after clocking the third-fastest time in the heats.
After an injury plagued year, the 25-year-old said was pleased to come through it unscathed.
"I actually felt surprisingly good because I haven't raced for over a month," she said.
Williams came with the aim of making the final, something she looks primed to do.
List of New Zealand medallists