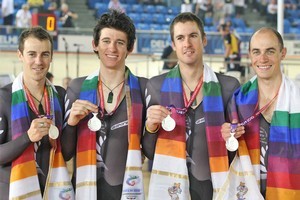 The New Zealand men's team pursuit finished with a silver in Delhi. Photo / Getty Images
The list of New Zealand athletes who reached the podium at the Delhi Commonwealth Games.
Gold (6)
Women's netball side
Mike Collings and John Snowden (shooting) fullbore pairs
Joelle King and Jaclyn Hawkes (squash) women's doubles
Valerie Adams (athletics) - women's shot put
Alison Shanks (cycling) - women's individual pursuit.
Silver (22)
Val Smith (lawn bowls) women's singles
Martin Knight and Joelle King (squash) mixed doubles
Linda Villumsen (cycling) women's road time trial
Stuart Farquhar (athletics) - men's javelin
Nikki Hamblin (athletics) - women's 800m
Stanislav Chalaev (weightflifting) - men's 105kg
Hayden Roulston (cycling) - men's road race
Greg Yelavich and Allan Earle (shooting) - centrefire pistol teams event
Richard Patterson (weightlifting) - men's 85kg
Brent Newdick (athletics) - men's decathlon
Nikki Hamblin (athletics) - women's 1500m
Daniel Bell (swimming) - 100m backstroke
Glenn Snyders (swimming) - 50m breaststroke
Ethan Mitchell, Sam Webster and Eddie Dawkins (cycling) - men's sprint team
Jesse Sergent, Sam Bewley, Marc Ryan and Westley Gough (cycling) - men's team pursuit
Joanne Kiesanowski (cycling) - women's scratch race
Jess Hamill (athletics) - women's parasport shot put
Lauren Boyle, Penny Marshall, Amaka Gessler and Natasha Hind (swimming) - 4 x 200m women's freestyle team
Gareth Kean (swimming) - 200m backstroke
Jesse Sergent (cycling) - men's 4000m individual pursuit
Lauren Ellis (cycling) - women's points race
Bronze (8)
Men's hockey team
Nick Willis (athletics) - men's 1500m
Andrea Miller (athletics) - women's 100m hurdles
Hayley Palmer (swimming) - 50m freestyle
Hayley Palmer, Penny Marshall, Amaka Gessler and Natasha Hind (swimming) - 4 x 200m women's relay team
Sam Webster (cycling) - men's sprint
Simon van Velthooven (cycling) - men's keirin
Eddie Dawkins (cycling) - men's 1km time trial
Medals by sport
Cycling: 11
Athletics: 8
Swimming: 6
Weightlifting: 2
Shooting: 2
Squash: 2
Hockey: 2
Bowls: 1
Rugby: 1
Netball: 1
- Herald online