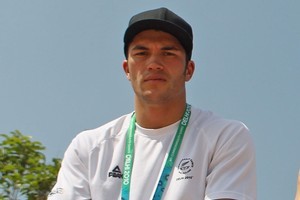 New Zealand coach Billy Meehan has launched a broadside at Commonwealth Games boxing officials after heavyweight David Aloua lost his heavyweight first round bout against Kenyan Elly Ochola overnight (NZT).
A furious Meehan could hardly contain himself after the fight was stopped late in the third and final round, when Aloua was leading 7-5 on points.
A medical official deemed Aloua couldn't fight on because of a bleeding nose, advising the referee to wave the contest off with 40 seconds remaining.
Aloua appeared stunned and Meehan condemned the decision.
"This is absolutely ridiculous, absolute garbage," Meehan told NZPA.
"The doctor must be about 90 years old and he's got absolutely no idea what he's doing.
"This is heavyweight boxing and our guy's got a bit of blood in his nostril. And it's not even flowing."
Meehan got a New Zealand medical official to inspect Aloua and he quickly ascertained there was nothing wrong with the 23-year-old.
"He's as good as gold and could go another three rounds," he said.
"The shame of it is that David was a genuine shot to go on and get gold here, a genuine shot."
Meehan said any protest would be "totally worthless".
Aloua was compact and efficient in the early stages to lead 4-0 after the first round and 5-2 after the second.
However, the aggressive Ochola delivered a number of blows to the New Zealander's head in the third and final round, one of which knocked him to the canvas. The fight was constantly paused through the latter stages to let the New Zealand corner deal with Aloua's nose.
There was better news in the 81kg class where Reece Papuni beat Niue's Travis Tapatuetoa 5-1 on points.
The Christchurch light heavyweight was far sharper with his ring movement and worked the body of Tapatuetoa with his left hand through all three rounds.
The scores were locked at 0-0 after the first round before Papuni produced the bulk of his scoring in the second round, opening up a 4-1.
Papuni and super heavyweight Joseph Parker are the only New Zealand boxers remaining after Parker stormed home to beat Canadian Didier Bence 14-7 last night.
In quarterfinal action today, Parker was to fight Tariq Abdul Haqq of Trinidad and Tobago while Papuni was up against Northern Ireland's Thomas McCarthy.
- NZPA