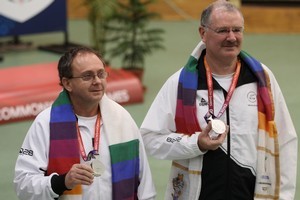 Greg Yelavich enhanced his standing as New Zealand's most successful Commonwealth Games athlete with a silver medal in the centrefire pistol teams event yesterday.
His 12th Games medal - the 50th won in shooting by New Zealand going back to 1966 - was achieved with Allan Earle in dramatic circumstances. The trigger on Earle's pistol malfunctioned as he made his last shot.
At that point they were second behind runaway winners India, but Earle needed at least an 8 when he took aim a few minutes later or New Zealand would be bumped out of silver by Singapore.
Earle didn't mess around with the crucial shot. But he cut it fine, squeezing out the bare minimum 8, before the pair embraced in a meaty hug.
Auckland locksmith Earle didn't know the significance of that last shot - deliberately.
"I had absolutely no idea," he said. "I'd kept away from the scoreboard. I thought there's enough pressure as it is. If I'd known the last shot needed to be an 8 to win the silver it probably would have been a 6."
Yelavich notched 574 points from a possible 600 - the equal third best individual score - and Earle 566.
They bounced back from a horror opening stage when their combined 375 from 400 had them back in sixth equal place, trailing India (384), with Singapore, Canada and Pakistan on 382, and Malaysia on 376.
The impressive range, 45 minutes south of Delhi on the edge of the neighbouring state of Haryana, has been good to the hosts. Vijay Kumar and Harpreet Singh maintained India's formidable record with guns in the hand at these Games, winning with a score of 1159.45. Yelavich and Earle had 1140.35 with Singapore's Bin Gai and Meng Lip Poh getting the bronze with 1139.40.
It was Earle's second Games medal, after a silver with Jason Wakeling at Kuala Lumpur 12 years ago.
Yelavich, a purchasing manager for a Silverdale outdoor craft company, says the buzz remains 24 years after his first Games success - two golds and a bronze in Edinburgh.
"Just being here wearing this silver fern is big, it really is. I'm so excited I could almost do a jig. It's unbelievable."
He's not about to pack his pistol away as he believes he's still got some good performances in him at age 53.
"I don't want to jinx anything but it would be nice to get another - but then that would be 13," he laughed. "Right at the moment I'd just carry on shooting till I die."
He was unaware of the medal until "an official came up and shook my hand. I thought he was saying goodbye."
His reasoning for keeping his eyes averted is simple.
"I just rate my own ability and thought I'm shooting well so I'm happy with that."
Auckland does not have a proper pistol range so Yelavich goes into an old range under Youthtown in the central city.
As for Earle, he says his 1998 medal was"totally out of the blue". Winning with Yelavich, though, was a real buzz.
The pair line up in the individual section of the same event later today.