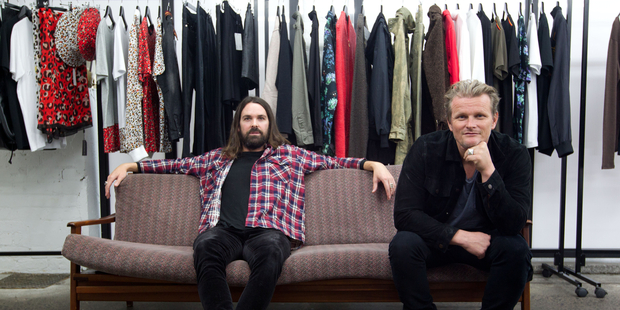 The founders of Stolen Girlfriends Club say a supply agreement the local fashion label has secured in the United States has the potential to open a lot of doors for the brand in the world's biggest economy.
The Auckland-based company - founded in 2005 by Marc Moore, Dan Gosling and Luke Harwood - has created an exclusive women's clothing line for Urban Outfitters, a Nasdaq-listed retailer with annual sales of more than US$2.4 billion ($2.9 billion).
Called The Fates by Stolen Girlfriends Club, the line includes a dress, shorts, backpack and a top made of neoprene.
It's a diffusion line, meaning the products are about three times cheaper than the label's main line and targeted at a more mass-market customer base.
The dress and neoprene top, for example, are both priced at US$109.
Gosling said The Fates range would only account for about 5 per cent of Stolen Girlfriends Club's total sales, which he did not want to disclose.
"It's significant enough, but this is also a test order for them [Urban Outfitters] and if it really performs - and we've had great feedback so far - the orders will only get bigger," Gosling said.
"If this is a success it will open up a whole lot of doors."
The deal follows a similar agreement secured by Karen Walker early last year, which saw that Kiwi fashion label get its mass-market, diffusion line called Hi There into US retailer Anthropologie, a sub-brand of Urban Outfitters.
Stolen Girlfriends Club, which also produces men's clothing for its main line, is currently selling its wares in high-end boutiques in 13 markets around the globe. While New Zealand and Australia are its main markets, the firm also has a presence further afield, including in Russia, Asia and the Middle East.
The label is focused on creating new divisions to feed its growth, including footwear, said Gosling, and an eyewear range - which will be unveiled to retailers next month - is expected to be released to the market in September.
Moore said the use of neoprene in the company's clothing lines stemmed from the founders' roots in the surfing industry.
Harwood, who recently relocated to New York to grow the business in the US, previously worked for Rusty, a surf label, while Moore worked for Insight, another surfing brand.