Locals and visitors came together in unity to reflect and remember the thousands of men and women who served their country.
Hundreds of people gathered today for Rotorua's Anzac Day parade and civic memorial service.
Words uttered by those watching the parade included "beautiful" and "emotive".
Read more: How to pay your Anzac respects in Rotorua
Australian soldier Bradley Foster to share Anzac story at Rotorua dawn service
Rotorua's dawn service marks first Australian guest speaker
Anzac Day marks New Zealand's first major engagement of World War I at Gallipoli, Turkey. Although it was a terrible defeat, it has gone on to become a legend of sacrifice.
Old and young marched together in the parade, which made its way from Memorial Drive, through the Government Gardens, to the Southern Trust Sportsdrome.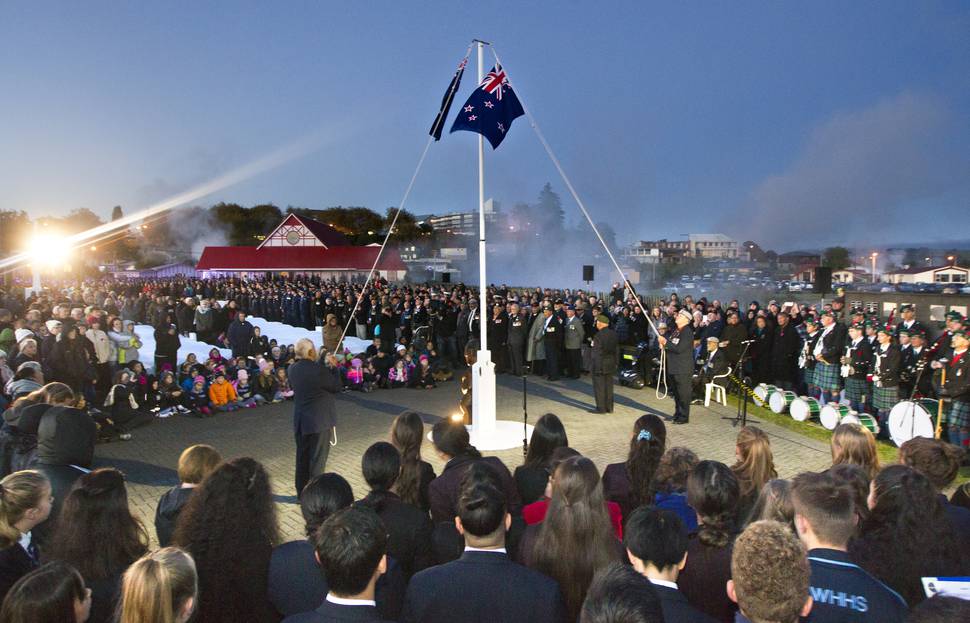 The parade paused at The Field of Remembrance by the Cenotaph, where a wreath was laid.
Kathryn Tokelove said watching the parade was moving.
Rotorua's Anzac Day dawn service and parade at Muruika war cemetery at Ohinemutu.
She said her daughter Lucy Tokelove, 10, was the one who wanted to go along to the parade.
"We've had a lot of discussions lately about the wars and people fighting for us and the lifestyle we have today."
Lucy thought the parade was awesome and said she also found it moving.
The Tokelove family were carrying two framed photos with medals as they watched the parade.
Kathryn said they were of her grandfather and great uncle who were both involved in war-time situations.
After the parade, hundreds of people settled side-by-side in the Sportsdrome for the civic memorial service.
The officiating minister was Reverend Tom Poata, with Rotorua mayor Steve Chadwick introducing this year's guest speakers.
Chadwick said a number of people had come from the dawn service, which was once again a haunting reminder of the great loss the Rotorua community had in the world wars.
"Even as we commemorate those who served and died for our country conflict continues in many parts of the world."
The guest speakers were Brig Gen (Rtd) R. Ian Thorpe CBE of MSD and John Paul College drama captain Olivia Temm.
In his speech, Thorpe shared a couple of stories from his military career.
"My message today is remember the soldiers of the wars and those who will not be home again."
Olivia's speech had a focus on this year's WW100 theme "The Darkness Before the Dawn".
She said Anzac Day was an opportunity for the community to commemorate the great losses of war and an opportunity for today's generations to learn from the past.
"The best way to learn from history is to know it, and know it well."
She finished saying, "it is our duty to have pride in ourselves, in Aotearoa, and in the Anzacs - lest we forget".
After the guest speakers, Ken Douglas played the Last Post on his bugle before the Ode to the Fallen was read out by Henry Macown and Bryce Morrison in te reo Maori and English respectively.
Wreaths were then laid by a number of representatives, service organisations and schools.