A pilot ran for his life after his chopper crashed and burst into flames in a Rotorua paddock, as residents of a nearby house cheered him on.
The dramatic incident unfolded on Hawthornden Dr in Tikitere about 3.30pm yesterday.
Rob Tane told the Rotorua Daily Post he was relaxing on his deck when he and his family saw a low-flying helicopter filled with smoke.
"We thought it was going to land on our house."
Instead, the helicopter landed heavily in the paddock next door.
Mr Tane grabbed his phone to video it and saw the pilot jump out of the chopper and start to run the other way.
"We started yelling, 'come this way!' and cheered him over, he sprinted to the fence and jumped it just before it caught fire.
"He said he lost power, I think he said a belt faulted. Two fire engines came and put it out, once the fuel had burned off it went down pretty quick," he said.
"The pilot was shook up, he was quite lucky. He said the cabin filled up with smoke and he had to put it down pretty quick."
He said a rescue chopper landed beside the burnt out helicopter and checked out the pilot. He appeared to be fine, and left with the fire engines, Mr Tane said.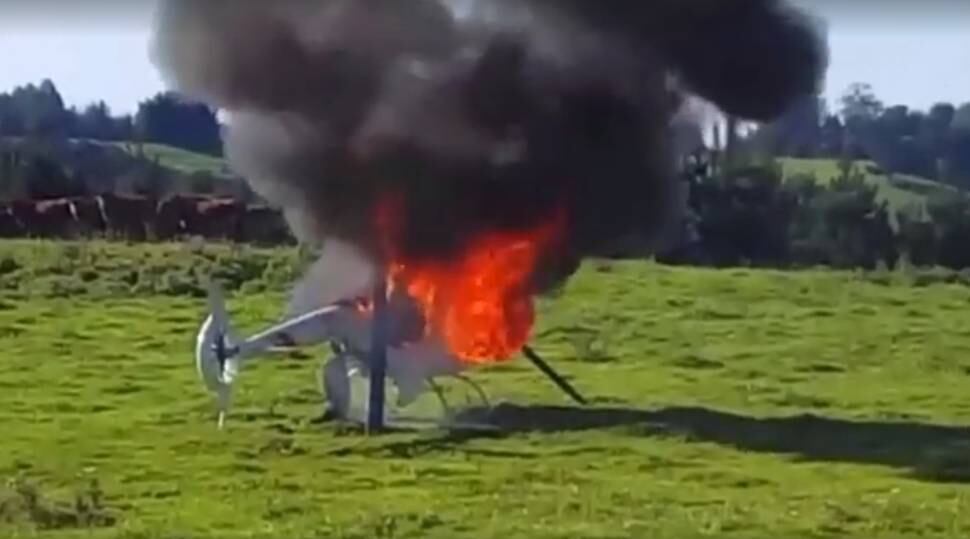 Mr Tane's son Markus, 7, had just gotten off his school bus when he saw two fire engines and the helicopter outside his house.
"I thought someone had died. I wasn't worried though because my kura told me that the person had jumped out. I thought it was pretty cool."
Jenny Stanley-Clarke, owner of Hobbits Hideaway on Hawthornden Dr said she heard the helicopter come down, but didn't see it.
"It was very loud, I thought, 'gosh what the hell was happening?'"
Mr Tane said they had been told to stay away from the area until the Civil Aviation Authority had inspected the scene.
Fire crews from Rotorua Airport and the Rotorua Fire Brigade attended the scene.
Rotorua Airport chief executive Nicole Brewer said she could confirm there had been a helicopter crash in an area outside the Rotorua Airport.
She said a fire crew from the airport provided assistance at the scene.
"No air services at Rotorua Airport have been impacted by the crash."
She said no further details could be provided as the incident was under investigation.
A Civil Aviation Authority spokesman said last night its Safety Investigation Unit was gathering information about the crash.
Once all available information was reviewed a decision would be made to determine if a physical investigation and examination of the wreckage would be needed, he said.
He said that decision was likely to be made this weekend.
Rotorua Fire Brigade senior station officer Colin Rolfe confirmed the pilot had safely escaped the chopper.
- Additional reporting Shauni James