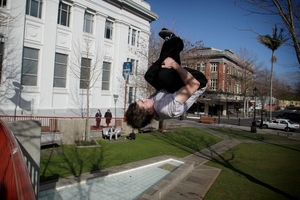 Stories making headlines around the regions today include an army of Parkour enthusiasts invade Wanganui and a discarded cigarette puts a fire brigade's party on hold in Papamoa.
Parkour artists poured into Wanganui from near and far - some coming from Palmerston North, and others from Auckland - for this year's MoveFest.
More amazing photos of all the actionhere.
Rotorua marked winter with a bang over the weekend with a spectacular Fire and Light Ignite Lantern Parade.
More photos of the festivities here.
Recent winter storms have reopened an old scar on the slopes of Mt Parihaka.
The Allen family may be the perfect neighbours, after they saved the house next-door from an out-of-control scrub fire.
A discarded cigarette scuttled Papamoa's duty firefighting crew's annual honours night dinner on Saturday.
Finally what's worth $187,000, weighs about 4kg, is made of 18-carat gold and only winners get to touch it?