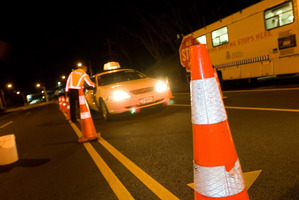 A man arrested for drink driving after his vehicle was blocked in by other motorists was stopped again for drink driving a few hours later.
Police said the man made it back to his vehicle, which had been left at the roadside, but was seen by a member of the public involved in the earlier incident.
The 40-year-old's first arrest came yesterday about 3pm after being blocked in near Wellington's Terrace Tunnel by members of the public, police said.
Senior Sergeant Richard Hocken of the Wellington road policing group said the man's keys were taken by police and the vehicle remained on the roadside.
However, some time after being released, the man later returned to his vehicle and gained access to it.
His erratic driving was reported to police by a member of the public about 6pm after they recognised the vehicle from the earlier incident, Mr Hocken said.
He was processed for drink driving for a second time, and arrested.
"It is very concerning that someone would be so determined to take such risks with the lives of other road users," Mr Hocken said.
"His erratic driving on the busy urban motorway could have easily resulted in a crash.
"Police wish to thank the members of the public who reported these incidents and assisted with taking this dangerous driver off the roads."
The man will appear in the Wellington District Court today facing two charges of driving with excess breath alcohol, driving a motor vehicle in a dangerous manner and driving while suspended.
Drivers could report road incidents which are urgent but not life threatening by calling *555. In an emergency and when there is an immediate risk, drivers should call 111 straight away, Mr Hocken said.
- APNZ