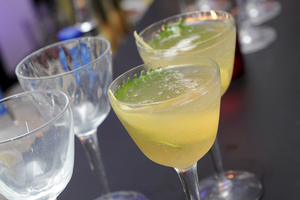 A woman arrested for drink-driving with two small children in the car allegedly drank at least half a litre of vodka before getting behind the wheel.
Kylie Antunovich will appear in the Waitakere District Court tomorrow charged with driving with excess breath alcohol. Police say when they tested the 29-year-old her breath alcohol level was 1568 micrograms per litre - nearly four times the 400mcg legal limit for adults.
Just after 6.30pm on the day of the alleged offending police received a call on the *555 traffic reporting line from a motorist concerned about the way a woman was driving a Nissan Skyline on Coatesville Riverhead Rd.
The motorist told police the woman had two young children in the car, and Waitemata road policing manager Inspector Mark Fergus said she was "seen to be swerving into other lanes and driving off the shoulder of the road".
The motorist followed the car to an address in Barrett Rd, and police arrived minutes later.
Both Mrs Antunovich and the Nissan, registered to her, were at the address.
A source told the Herald that when officers spoke to Mrs Antunovich she appeared to be intoxicated. She told officers she had been drinking shortly before she drove, and had consumed half a litre of vodka, the source revealed.
In December a senior police officer not connected with the case told the Herald that it would require at least 25 standard drinks to reach such a high level.
"Without commenting on this particular case, as it will be going before the court, generally speaking someone at that extreme level is in need of urgent support of their friends and family to get help."
She was then given an evidential breath test, which revealed the high reading. It is one of the highest recorded in New Zealand.
Mrs Antunovich could not be reached for comment yesterday. A woman at her Kaipara home said she no longer lived at the address, and was "in Auckland".
Her husband Eli Antunovich told the Herald he preferred not to comment on the charge or allegation.
"I'm not really interested thanks. We've got kids and I don't want to do anything that's going to affect the kids," he said.
Mrs Antunovich has been charged with driving while the proportion of alcohol on her breath exceeded 400mcg. She is expected to appear before a registrar first thing tomorrow.
On the day of the alleged offending Mrs Antunovich's licence was suspended for 28 days.
Waitemata Police would not comment on the case because it was before the courts.
Child Youth and Family yesterday confirmed they were aware of the incident.
"Police made a referral to us at the time of the incident. We have been working... since then to ensure there are safe care arrangements for the children," said Tai Tokerau regional director Marion Heeney.
"We are unable to comment further as the matter is before the court."
Alcohol limit:
The legal alcohol limit for drivers over 20 in New Zealand is 400 micrograms per litre of breath. Some of the highest levels recorded include:
• Auckland man Prashath Balasubramaniam allegedly had a breath-alcohol level of 1918 micrograms on January 2
• Auckland teacher Joanna Winifred Wright, charged after driving with a breath-alcohol level of 1583mcg in July 2006
• Two other women were caught driving in 2006 with alcohol levels which surpassed the 2000mcg maximum limit of breath-testing equipment
• A Rotorua District Court judge was so surprised by Francis George Moore's 1714mcg reading in 1998 he ordered the equipment to be checked. Moore was later convicted based on the original reading