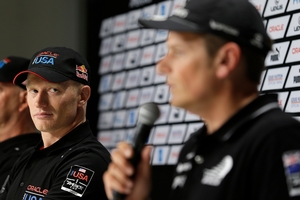 When Russell Coutts promised to deliver an America's Cup regatta that would appeal to the "Facebook generation" rather than the "Flintstones generation", Jimmy Spithill causing a stir on social media probably wasn't what he had in mind.
The Oracle Team USA skipper raised eyebrows ahead of yesterday's racing when he tweeted a photo of a motivational message apparently sent in from a fan and posted on the team's noticeboard. The message read, "There's no I in 'Just beat the f*****s'."
The "Flintstones generation", who can recite the Deed of Gift and the protocol that governs the Cup by heart, were quick to pipe up - "Ah, but Jimmy old son, there is an 'I' in article 60." Article 60 is often referred to as the "Dalton clause", as outspoken Team New Zealand boss Grant Dalton is thought to have been the motivation for its inclusion, and it relates to bringing the sport into disrepute.
There was no real danger that Spithill would be officially sanctioned for the tweet, but he was advised by America's Cup Events Authority chief executive Stephen Barclay to remove the post.
When asked about the tweet the typically candid Spithill admitted in hindsight it probably wasn't the best move.
"We want to win badly, really badly. Some of the stuff we get sent is a bit of a laugh and almost black humour. In hindsight it would have been a lot better if it didn't have the f-bomb in it for sure."
Team New Zealand shrugged off Spithill's aggressive pre-race tweet, with Dean Barker chuckling when he heard what the message said. It was probably the most animated we'd seen Barker all regatta.