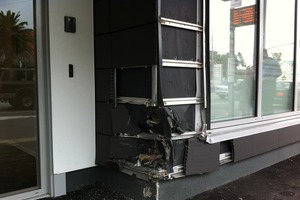 A driver has caused thousands of dollars worth of damage to Ronald McDonald house in Wellington today.
A mother, with two small children in the back seat, drove into a pillar of the Newtown building about 10.30am.
The car's occupants suffered minor injuries and were taken by ambulance across the road to the hospital, a police spokesman said.
Ronald McDonald House provides temporary accommodation for families of seriously ill children.
Employee Georgie Aspros said she felt something hit the building and looked out the door to see the car sitting there "right on the building".
None of the residents were affected by the crash, she said.
Chief executive Lesley Slieker said it was fortunate nobody was injured, because the front doors were next to where the car crashed and a bus stop was also right outside.
"For us I think the main thing is the mum and the two kids in the car were safe and there was no-one injured at the bus stop there."
The children, a baby boy about 8-months-old and a little girl aged about 3 were restrained in "good" carseats, Ms Slieker said.
"And they had airbags in their car as well."
The car caused about $10,000 worth of damage by pushing the outside wall about 5mm out of alignment and large double-glazed, eco-coated windows might need to be replaced.
- APNZ