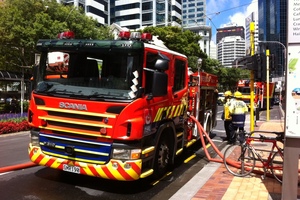 A fire in the laundry of a central Wellington day spa may have been sparked by oily towels in a drier.
Firefighters evacuated the nine-storey Prime Property House on Woodward St, off Lambton Quay, after the fire broke out about 1.15pm today (Wed).
Smoke could be seen billowing from a window on the fourth floor, and there was strong smell of smoke in the area.
Three fire crews tackled the fire, while a cherry picker remained on standby outside. The blaze had been brought under control by about 2.15pm.
One lane of Lambton Quay was closed for about an hour to make way for six fire trucks at the scene, forcing cars and buses to make a short detour.
Fire Service senior station officer John Mansford said the fire broke out in the laundry of a spa on the fourth floor.
"I suspect that it has something to with the drier, and I suspect that it's perhaps oils mixed with towels.
It's heated up and then it just keeps on heating up and spontaneously combusts.''
Mr Mansford said the fire crews did well to contain the damage.
"They forced the fire out into the staircase, rather than into the spa area, so there's minimal damage in there.''
Mr Mansford said there was no smoke damage to the other floors.
Nobody was trapped or injured in the blaze.
- APNZ