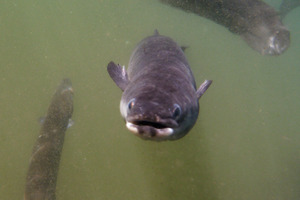 X-rays of a man with an eel in his bottom were allegedly accessed by Auckland City Hospital staff and emailed to one another, to members of the public and to the media.
The Auckland District Health Board confirmed yesterday it had launched an investigation into a potential breach of patient privacy after details of the man's time in hospital were published at the weekend.
The Herald on Sunday reported that the man sought treatment at the hospital last week with an eel "about the size of a decent sprig of asparagus" lodged in his bottom.
The Herald understands staff allegedly accessed the man's medical file and emailed the x-rays. It is understood the incident could lead to court action against those involved.
A source said media organisations had a copy of the x-ray, but had chosen not to publish it. Neither the Herald nor the Herald on Sunday has the image.
The board said it was investigating the "apparent inappropriate access of clinical records and the possible separate leaking of information to the media about a man who presented with an eel inside him".