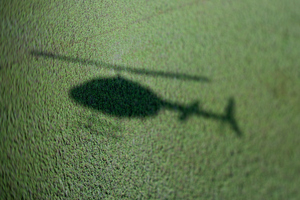 There are calls for a helicopter company to be investigated after it posted a video on YouTube that appeared to show helicopters flying low in the wilderness areas of Fiordland and Mt Aspiring National Park.
Dunedin Hunter Jaz Morris has asked the Department of Conservation's director-general Al Morrison to investigate alleged concession breaches by The Helicopter Line Ltd depicted on YouTube.
He believed the video showed breaches of aviation rules, DoC policies and the herding and hazing of animals.
"This video unequivocally shows THL helicopters in multiple, flagrant violations of civil aviation rules requiring a minimum of 500ft distance from the ground in various parts of the South Island especially Fiordland and Mt Aspiring National Park," Mr Morris said in his letter.
Flights below 500ft also occurred in the Olivine wilderness area and the Hooker-Landsborough wilderness area in clear breaches of the general policy for national parks, including that of the Mt Aspiring National Park management plan and the West Coast Conservation Management Strategy, he said.
"The very low flights above the wilderness areas evident in this video suggests THL takes a disrespectful and cavalier approach to flying in these special places."
He also sent a copy of the letter to the Otago Conservation Board, Federated Mountain Clubs and the Civil Aviation Authority.
Blair Deasy, general manager of Totally Tourism, which owns and operates Helicopter Line, said he was not aware of Mr Morris' concerns but would look into it.
Otago Conservation Board deputy chairman Dr Gary Nixon said yesterday he had looked at the video and believed there were plenty of places the helicopters could have secured similar shots without encroaching on wilderness areas.
Having helicopters fly low over these areas was "disruptive and unpleasant" for those who had climbed or walked in.
It seemed that while the activity might not be against the letter of the law, it was "certainly against the intent" of the Mt Aspiring management plan, Dr Nixon said.
DoC community support manager Ken Stewart said it was still to be established whether the company was in breach of its concession or any other regulations, but it was likely the director-general would ask the Otago Conservator to investigate.
A Civil Aviation spokesman said it had received the concern and it was being looked at.