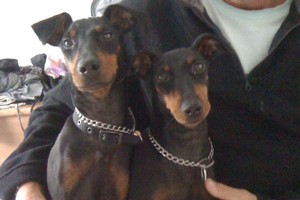 A pair of Manchester terriers who were sitting inside a car stolen from a Remuera street have been found after five days of "old fashioned" police work.
Dexter, 2, and his mother Bella, 5, were under a rug on the back seat of Angela Lewis' Audi A4 when it was stolen on Ngapuhi Rd on Monday.
Ms Lewis and her partner Graham Brown spent the week carrying out letterbox drops and doorknocking as they looked for clues on the dogs' whereabouts.
An exhausted and hungry Bella was discovered last night at a park in the South Auckland suburb of Papatoetoe after a tip from a Great South Rd store.
Dexter was found at about 10:30am this morning at a Papatoetoe house occupied by people who were "known to police".
He was in good condition and had been fed.
One man has been taken into custody for questioning.
Mr Brown said he was relieved and elated to have the dogs back.
Retrieving the stolen car was not as important as having Dexter and Bella, he said.
"We're a family of four here. There's me and Ange and our two dogs."
He thanked the people who had helped him look for the dogs over the week.
"Everyone put in a huge effort going back to old fashioned police methods, padding the hoof."
Counties Manukau sergeant Andrew Readings said it was again a tip off that helped locate Dexter.
He sustained multiple scratches to his arms and legs while trying to calm an "elated" Dexter and reunite him with Ms Lewis and Mr Brown, who was waiting a block away.
The stolen Audi has not yet been recovered, he said.