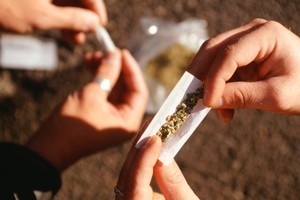 A company ordered to remove a legal alternative to cannabis says it had no idea it contained a prescription drug.
Director-General of Health Kevin Woods ordered Cosmic Corner Limited today not to sell Juicy Puff Super Strength because it contained a benzodiazepine called phenazepam.
The same medicine was found in Kronic Pineapple Express ordered off the shelves by the government on Thursday.
Phenazepam can only be legally supplied when prescribed by a doctor or other prescriber.
However, the company said it was only a retailer of the product and did not manufacture or import the product.
Company spokesman, Mark Carswell said Juicy Puff Super Strength was one synthetic cannabinoid blend out of the fifteen sold by Cosmic to have been contaminated by a small amount, 240 parts per million, of the prescription medicine phenazepam.
The product had been purchased in good faith from an Auckland firm, London Underground, he said.
``Juicy Puff Super Strength is not intended to contain phenazepam, and Cosmic was not aware that it contained phenazepam.''
Cosmic would cooperate with the Ministry of Health to ensure a safe and efficient recall, Mr Carswell said.
People should return all unused Juicy Puff Super Strength product to any Cosmic store and they would be given a store credit.
Industry leaders would meet on Monday to consider a code of practice incorporating a testing standards to ensure materials were screened for contaminants.
Dr Woods said phenazepam could only be legally supplied when prescribed by a doctor or other prescriber.
It was not available in New Zealand and used only in one country for the short-term treatment of anxiety and as an anticonvulsant.
Dr Woods urged people using either recalled product to seek medical help if they felt unwell.
Juicy Puff Super Strength is one of several herbal smoking products containing synthetic cannabinoids.
The prescription medicine in the product was confirmed late last night.
Environmental Science and Research is testing about 40 similar products.
- NZPA