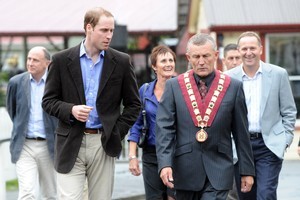 Prince William has met families of the victims of the Pike River Coal mine disaster in Greymouth tonight.
The Prince's visit to the West Coast was delayed due to bad weather, but his flight arrived from Christchurch about 4.45pm.
Families of the 29 victims of the Pike River mine disaster and Grey District Mayor Tony Kokshoorn were waiting to greet him at the Golden Nugget Hotel building in heritage attraction Shantytown, 10km south of Greymouth.
Mr Kokshoorn welcomed the Prince, and said he was a young man who had known tragedy in his life, with the death of his mother Princess Diana in a Paris road smash.
Prime Minister John Key said he had had a call from Buckingham Palace a couple of weeks ago saying that Prince William had wanted to visit earthquake-ravaged Christchurch and also meet the Pike River families.
Mr Key said he was delighted when he got word of the Prince's visit. "It speaks volumes about Prince William and the future king he will be."
He thanked the Prince for making the trip to a country having "a really terrible time".
Mr Kokshoorn donned his mayoral chains before leading Prince William through the village to a building called the miners' hall.
He said he was humbled that the Prince made time in his busy schedule to visit Greymouth.
"We are really humbled you have extended your hand to us... to come and help the families grieve."
Mr Key said Pike River was a tremendous tragedy and he thanked the families of the miners for supporting their neighbours in Canterbury.
"We want you to know and be sure we will never forget the men at Pike River and the amazing contribution they made."
The media was not allowed in to the family meetings, the first of which was with the family of Pike River blast survivor Daniel Rockhouse.
Daniel's father Neville Rockhouse, who was Pike River's safety and training manager, was the first to shake the Prince's hand.
- Anna Leask, pool reporters