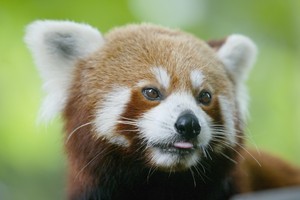 Auckland Zoo is sending one of its female red pandas, Khosuva, to India in exchange for a male red panda at Darjeeling Zoo in India.
Ten-year-old Sagar is expected to arrive in Auckland early next month and spend a month in quarantine before the public gets to see him.
Khosuva flies out tomorrow, leaving behind her mother Maya and sister Amber. She will be used in a re-designed captive breeding programme at the Darjeeling zoo. She has not yet been mated.
"Given successful breeding, Khosuva's offspring will be released into the wild - which will be an historic first for Auckland Zoo," said a zoo spokesman.
Agriculture officials finalised export protocols in April for the export of a sloth bear, Himalayan black bear, brown bear, polar bear, Malayan sun bear and red panda to India.
The Darjeeling zoo has nine male, three females and two infant red pandas, and decided to balance its gender mix by swapping a male for Auckland's female.
"We have to avoid genetic problems that could arise due to inbreeding" the zoo said.
Red pandas live in the Himalayan foothills from western Nepal through northern Burma and in the mountains of south-western China, in forests with dense bamboo growth which are being destroyed for farms and for firewood.
Auckland Zoo will also send two young Sumatran tiger siblings -- male Jalur and female Cinta -- to Symbio Wildlife Park in New South Wales in late October for captive breeding.
Jalur and Cinta, along with their brother Berani, made history at Auckland Zoo when born in June 2008 to mum Molek and dad Oz - becoming the first tigers to be bred there.
- NZPA