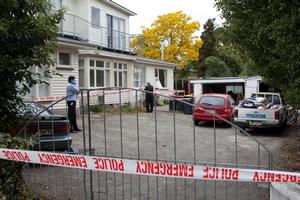 A 27 year-old unemployed woman has appeared in court charged with disposing of the body of her baby boy and trying to conceal the birth.
The woman was granted name suppression and released on bail until she re-appears in the Christchurch District Court, next month.
The duty solicitor, Gilbert Hay, said suppression was sought to
protect the woman's family and the woman's daughter.
The woman had a preliminary psychiatric assessment and there were some medical concerns for the woman, Mr Hay said.
Judge David Saunders said the suppression would remain until the medical issues were further considered.
She is facing a charge of failing to report the death of a baby after her child's body was found in a Christchurch shed.
Police believe the baby was born between July 1 and August 30 last year. They had been seeking the mother of the baby since the body was
uncovered during a clearing out of the shed at a boarding house, earlier this week.
They had said the newborn or very young baby might have been born up to two years ago.
It is now believed the baby was probably born in the middle of last year.
Detective Inspector Tom Fitzgerald said last night that the mother living in Christchurch had been identified. She knew police wanted to speak to her, and had made herself available.
Police had ascertained how the body ended up in the shed, but Mr
Fitzgerald did not want to discuss if the woman had any links to the boarding house.
Among those living at the boarding house are international students and long-term tenants. Existing tenants had been spoken to by police and
former tenants had been sought.
Colette Brick, a landlady and part-owner of the boarding house, said yesterday she could not discuss the police inquiry, but did say none
of the tenants were directly involved.
Asked how the inquiry was impacting on the tenants, she said: "It won't
really affect them as long as they don't get sensationalised."
Police have not ruled out further charges being laid against the woman. No one else was being sought.
"There are a number of inquiries to still finish off, but we are satisfied that we now have fairly much a full picture of what happened," Mr Fitzgerald said.
Earlier yesterday, Mr Fitzgerald told media the baby's body had been examined but he could not reveal its sex or ethnicity.
Asked if there was a deliberate attempt to hide the body in the shed, Mr Fitzgerald said: "No, I don't know if you would call it a deliberate effort to hide it, but it certainly had been left."
Last year, a Samoan woman was charged with abandoning her newborn baby daughter, found in a rubbish bin on a flight to Auckland, and police also investigated after a premature baby boy was found dead and naked on a concrete path at the home of two Indian women in West Auckland.
In December 2007, Otago University student Patricia Golovale-Siaosi, 22, was sentenced to 12 months' supervision and 130 hours' community
work after giving birth in a toilet and throwing the dead baby out a window in a plastic bag.
She had not told anyone she was pregnant because she did not want to lose her scholarship and was ashamed to be unmarried.